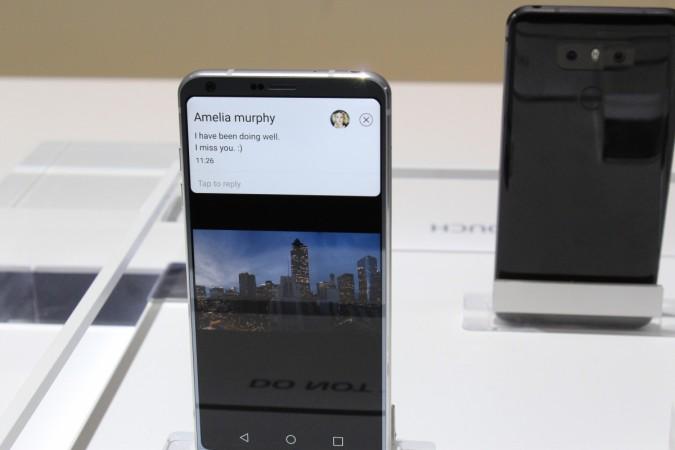 LG launched its first flagship smartphone of 2017 — the G6 — in February, whereas as its compatriot Samsung launched the Galaxy s8 and S8 Plus a month later in March.
LG did get the early start with the first 18:9 aspect-ratio-sporting flagship of the year, but soon the Galaxy S8 stole all the credit with its curved Infinity Display.
Come 2018, and LG might launch the G6 successor – the G7 – around the same time as rival Samsung's flagships the Galaxy S9 and Galaxy S9 Plus.
According to a report from BussinessKorea, LG might pull the wraps off the new G7 at CES 2018 in Las Vegas in January. If this report is to be believed, we might see a clash between the two Korean tech-giants at the very beginning of next year.
The rumours that Samsung will be launching the Galaxy S9 and S9 Plus at CES 2018 become stronger and stronger as we near the end of this year. The latest report suggests Samsung has begun testing the Galaxy S9 with Android 8.0 Oreo, and is pushing hard to launch the next Galaxy flagships and get an early lead.
The Galaxy S9 launch rumours were cemented when noted tipster Evan Blass wrote in Venture Beat that Samsung Galaxy S9 and S9 Plus will be showcased at CES 2018. The report, however, added that the actual launch would take place in March.
Look at Samsung and LG's launch history: Samsung Galaxy S8 was launched in March in New York, while LG G6 was announced at LG's pre-MWC 2017 event on February 26.
According to the report, the reason why LG would launch the G7 early in 2018 is to make sure it hits markets quicker.
LG G7 is rumoured to feature the same Full Vision display seen in LG G6. However it will be interesting to see whether LG's next flagship launches with the same Qualcomm Snapdragon 845 processor as the Samsung Galaxy S9, or some other chip.
It looks certain that Samsung could launch the Galaxy S9 with the Snapdragon 845 SoC, as several reports claim it has bagged the first batch of Qualcomm's upcoming flagship processor. The company even got the dibs at the Snapdragon 835 with the Galaxy S8, whereas LG G6 came with the older Qualcomm Snapdragon 821 processor.
Also Read: Smartphones you can expect at CES 2018: Samsung Galaxy S9, Sony Xperia, LG G7