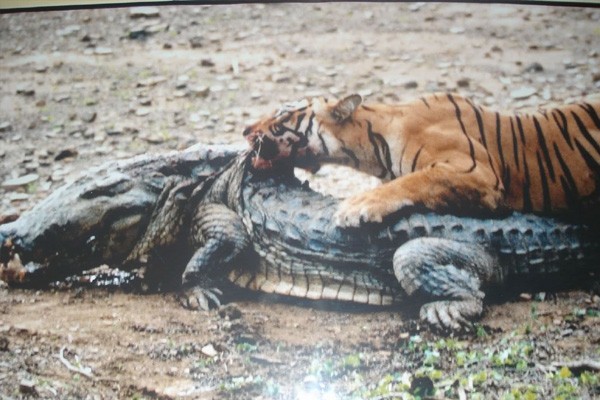 Machhli, the tigress who won hearts and became one of the icons of the "Save the Tiger" movement in India, passed away on Thursday at the age of 19. She had reportedly not been eating for five days, and is believed to have died of old age. A tiger usually lives 14-15 years. She was later in the day cremated with the observance of Hindu rituals.
People who visited her at the Ranthambore National Park in the Sawai Madhopur district of Rajasthan expressed their sadness at her passing. This comes less than a month after Jai, Maharashtra's biggest tiger who called the Umred-Karhandla Wildlife Sanctuary his home, first disappeared and was spotted in another district.
Machhli, often referred to as the tigress queen of Ranthambore, is remembered by wildlife enthusiasts and tourists as one of the most versatile felines of her species in the area, having given them many occasions to preserve for posterity either as images or as video. In fact, the official website of Ranthambore National Park says she was the most photographed tiger there.
Machhli, designated as T-16, was also known as "lady of the lake" because she could be found mostly around the local water body. However, that was not the reason why she was named Machli, which means "fish" in Hindi. She got the name because some marks on her face resembled that of a fish.
The official website of Ranthambore National Park chronicles Machhli, whom it refers to as Machli, thus: "There could be many reasons behind her fame, but the one and only thing that has captivated many attentions are her muscular and majestic look and her dominance at the whole Ranthambore jungle."
On her rise to fame and spotlight, the site notes: "Her legendary fight with 14-foot-long crocodile has really created a history and it was the first time such an encounter was recorded and filmed. Interestingly, Machhli has been photographed many times and has gained a lot of popularity among the wildlife lovers. Many documentaries and short films have been shot on her and she is the star of the wild tiger world."