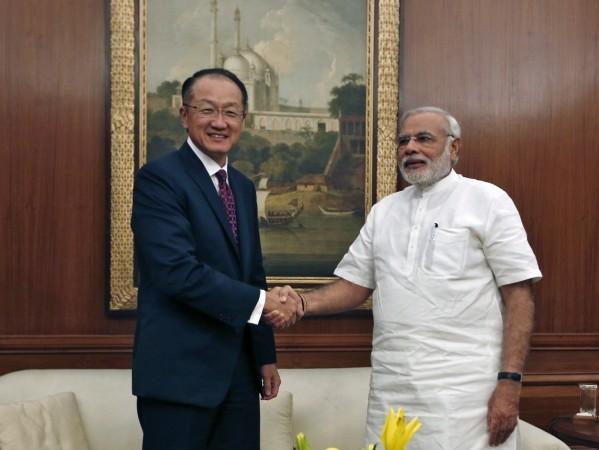 South Asia's biggest economy India is poised to grow at 7.5 percent in 2015-16 and possibly clock 8 percent growth in 2016-17, because of a paradigm shift in its growth pattern – from consumption-led to investment-led.
This, along with falling crude oil prices, is contributing to South Asia emerging as the fastest-growing region in the world, says a World Bank report.
India's investments are expected to grow at 12 percent between 2015-16 to 2017-18, says the South Asia Economic Focus report released on Monday.
Paradoxically, India's neighbour China is undergoing the opposite transition, adds the report.
The falling crude oil prices is an opportunity for India to step up investments in infrastructure.
"Savings from reduced subsidy bills could be used to address the crying needs of the region in terms of infrastructure, basic services and targeted support for the poor", says World Bank Vice President for South Asia Annette Dixon.
The Washington-based bank projects China's growth to slow down to 7.1 percent in 2015 and 7 percent in 2016, from 7.4 percent in 2014.
Capital inflows to India have increased from 1.9 to 3.4 percent of GDP, although more "volatile portfolio investments" account now for a greater share of the total, says the bank.
The World Bank's estimate is in line with other forecasts, which have said a stable government and prospects for reforms are bound to drive economic growth in India.
Global rating agency Moody's Investor Service upgraded India's credit rating outlook to positive from stable last week, saying reforms initiatives of the new government will enhance country's economic strength.
The vice-chairman of National Institution for Transforming India (NITI) Aayog Arvind Panagariya recently said that India would grow at 8-10 percent in the coming years. "I expect India's economy to grow anywhere between 8-10 per cent in the next 15 years," DNA quoted him as saying.
Here is a Look at Other Forecasts on India's Growth Projections:
Asian Development Bank (ADB): It estimates India's economic growth to exceed that of China in the next two fiscal years. The bank forecasts India's GDP to grow 7.8 percent in 2015-2016 and accelerate to 8.2 percent in 2016-2017.
International Monetary Fund (IMF): It expects Asia's third largest economy to grow by 7.5 percent in the current fiscal year.
Economic Survey for 2014-2015: Indian economy to grow by 8.1-8.5 per cent in 2015-16.
Reserve Bank of India (RBI): The central bank projects the country's growth at 7.8 per cent in 2015-16 assuming a normal monsoon, continuation of the cyclical upturn in a supportive policy environment, and no major structural change or supply shocks.
CRISIL: The Mumbai-based raing agency says India's growth to increase to 7.9 percent in 2015-2016 on the back of falling inflation, lower interest rates and a healthy monsoon.
Morgan Stanley: The brokerage firm expects India's economy will grow at 7.9 percent this fiscal and 8.4 percent in 2016-17, boosted by increase in domestic demand and lower inflation.
Standard & Poor's (S&P): The global rating agency estimates India to grow at 7.9 percent in the current fiscal year.