Freshly leaked renders of Apple's upcoming flagship iPhone 8 have recently surfaced on Twitter, showcasing the highly-rumoured copper gold variant of the handset. Meanwhile, the latest speculation from KGI analyst Ming-Chi Kuo confirms that the iPhone8 will indeed launch in September alongside the iPhone 7s and iPhone 7s Plus.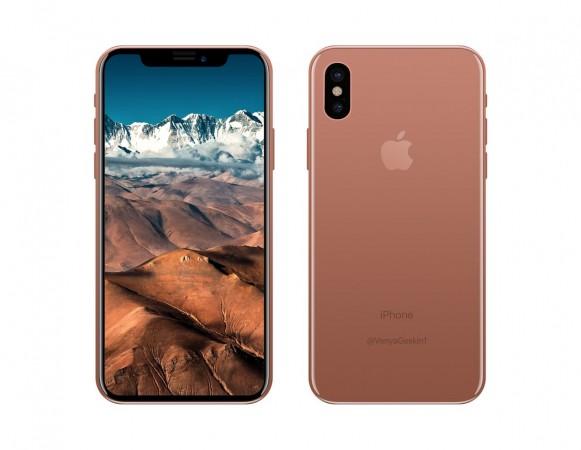 Although iPhone 8 is almost certain to launch in three regular colours including black, gold, and silver, the latest rumours are debating about two other possible options: champagne gold and copper gold. Given the recent flurry of leaks, Apple seems all set to launch the iPhone 8 in the new and vibrant champagne gold or copper gold, instead of the traditional gold variant.
With due credit to prolific tipsters Benjamin Geskin and Ben Miller, we now have access to the leaked renders as well as the dummy unit depicting the iPhone 8 Copper Gold in full glory. Here are the pre-release images showcasing Apple's forthcoming flagship phone in copper gold (courtesy of Geskin):
As you can see in Geskin's renders posted above, the iPhone 8 will feature an edge-to-edge OLED display, the notch design, as well as extremely minimal bezels. One can also notice the vertically-aligned dual-rear camera and the pre-dominant apple logo at the back.
The catch here is that Geskin's second render of iPhone 8 mirrors the looks and design elements portrayed in Apple's promotional materials. So, that is the closest we could get to the actual product that will be launched sometime in September.
On the other hand, Ben Miller (aka @bensen) has showcased the dummy unit of the iPhone 8 in copper gold, which portrays identical looks and design schematics in line with Geskin's renders. However, the dummy unit has a white notch design as opposed to the black version depicted in the pre-release renders. Just the colour change with the phone's notch design offers a big facelift to the looks of the handset.
iPhone 8's notch design seems almost confirmed as several recent leaks have pointed to similar front design concepts including the HomePod firmware leak. Among other interesting features, the leaked firmware code points to Apple Pay support for Face ID, new SmartCam mode, tap to wake and more.