A freshly leaked poster of Xiaomi's upcoming mid-range smartphone 'Mi 5X' has thrown light on its specs, price and design details. However, a small portion of the handset is visible in the poster and the design details are very sparse.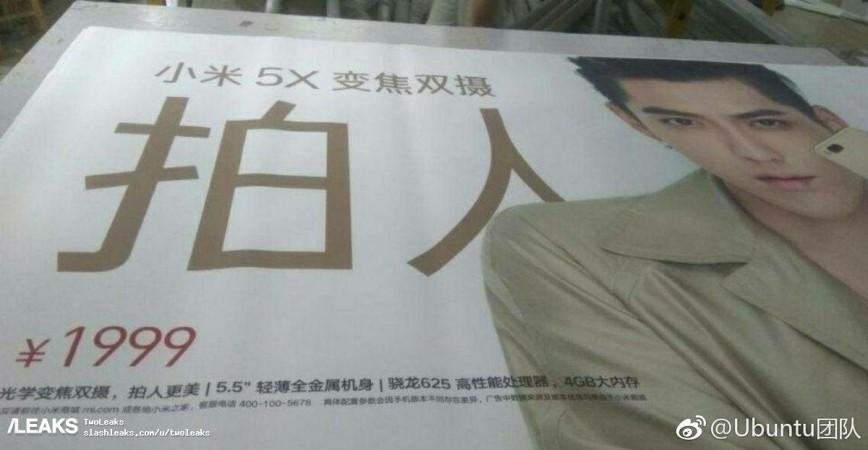 Xiaomi Mi 5X specs
The leak suggests the Mi 5X will come with a 5.5in display powered by a Qualcomm Snapdragon 625 processor and 4GB RAM. Earlier rumours indicated the device would have Snapdragon 660.
The poster reveals nothing about the handset's native display resolution or if it would support a full HD display. However, it is likely to get a 1080p display, going by the current trend.
Xiaomi is yet to officially confirm the handset while the leaked poster is alleged to be promotional material. Consequently, this leak should be taken with a pinch of salt as the handset's specs could change when the phone is officially announced.
Rumours suggest the Mi 5X will ship with a dual camera setup on the rear panel and support 64GB of internal storage. Speculation is rife that it will get a 5MP front-facing camera from Samsung and incorporate a unibody metal construction to justify its premium branding, albeit at an affordable price.
Xiaomi Mi 5X price and availability
Coming to the pricing details, the Mi 5X is expected to cost around CNY 1,999 (US$295 approx.). There is still no word on the launch or release date details of the handset. If the leaked poster indeed pertains to some promotional material, then the handset could be announced very soon.