Game of Thrones season 7 episode 1 has been leaked on social media after its premiere on July 16. And, apparently, the leaked clip garnered a whopping 1.3 million views within nine hours but was later removed.
Also read: Game of Thrones season 7 episode 1 is intriguing but doesn't have obvious plot twist [SPOILERS]
The leaked episode, which was of really good quality (seems like the original version!), racked up nearly 33k likes and also shared for 33k times.
After months of waiting, HBO's much-anticipated series made its way to the small screen. Despite the maker being proactive against the piracy, such practice is just impossible to stop. While the episode leak affects the business of various TV channels and streaming services, this also prompts the practice of piracy.
This is not the first time that such an episode leak incident occurred. In the recent past, the first episode of Orange Is The New Black season 12 got leaked and is being shared on social media before its release on Netflix.

The first episode of GoT season 7 titled Dragonstone began with where it left us in the last season. Ned Stark's youngest daughter Arya Stark takes her much-awaited revenge on Walder Frey by slitting his neck. And, with the help of the face of Frey, she also kills all the Frey men who are involved in the mass murder of Stark family at the Red Wedding.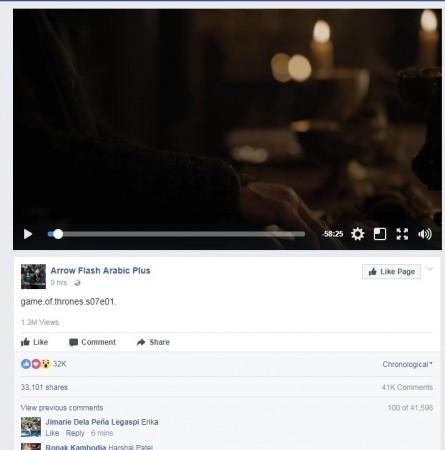 Also, Grammy winning singer Ed Sheeran made a special cameo in the first episode of the penultimate season. Sheeran's character is seen singing a camp fire song alongside Arya Stark, although it garnered mixed response from his fans across the world.
Meanwhile, the trailer for the second episode of the seventh season has also arrived titled Stormborn. It will be aired on July 23 on HBO at 9 pm ET. Indian viewers can watch it on Hotstar on Monday (July 24) at 7.30 am IST.
Watch the trailer below.