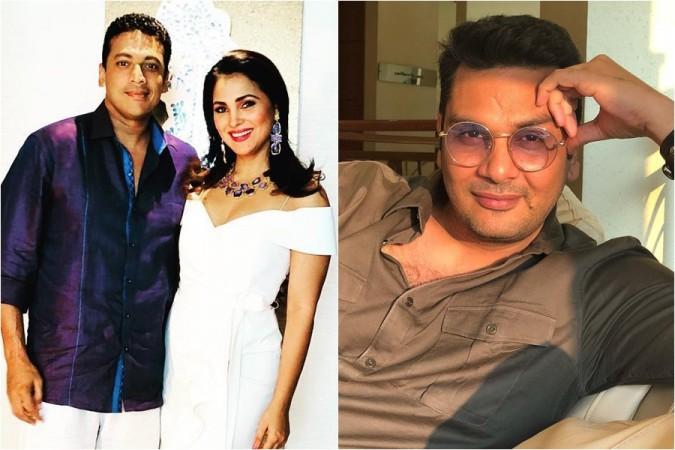 Lara Dutta's husband and tennis player Mahesh Bhupathi on Friday posted a long note on Twitter stating that his wife has turned down a work offer from a leading international digital platform which she got through casting director Mukesh Chabbra's company. He also urged people to stop engaging with those who have been accused of sexual abuse. He added that while the law and investigation will take its course to punish the offenders, he made his stance crystal clear that the society will reject them saying "guilty unless proven innocent."
Mukesh Chhabra was accused of sexual harassment by at least four women post which he has been sacked from his position as a director for Fox Star Studios' upcoming film Kizie Aur Manny which stars Sushant Singh Rajput and Sanjana Sanghi in lead roles.
While many lauded Bhupathi's step of alienating sexual offenders, many were not happy with his "guilty unless proven innocent" statement. People argued what if one of the accused turns out to be innocent after investigation and expecting a collateral damage.
"I respect d stand taken by you ... but 'guilty unless proven innocent' can be a very dangerous proposition to tread on. Because god forbid if for some reason one of them is not guilty.. his life is ruined basis propaganda. Do we then sit back and say ' expected collateral damage'," a Twitter user opined.
Another user tweeted, "Seriously, "Guilty until proven innocent". The perpetrators must be punished, surely but not by turning a blind eye towards the law. You should have known better."
"One of the few sane comments here. The concept of "guilty unless proven innocent" made me very uneasy," a Twitter user expressed his disappointment while the other tweeted, "Guilty unless proven innocent is not a wise approach."
However, some people agreed with Bhupathi's thoughts and said that it was the right approach to punish the offenders.
Read Mahesh Bhupathi's full statement here:
"#StopEngaging

What a disturbing fortnight its been with all these Me Too stories coming out. My initial reaction was 'It's about time, but this feeling quickly gave way to paranoia. I suppose being the father of a 6-year-old girl had a lot to do with that. As women around the country continue to share their horrific stories, most people in a position of power -- influencers, as they're popularly called — have chosen to stay silent on the matter.

Two days ago my wife, who's shooting out of town, got an offer from a leading international digital platform through Mukesh Chabbra's company. She forwarded it to me for my feedback. I asked if she really wanted to empower his company even after what's been in the news. Her reaction was that the digital platform hadn't really pulled back business from him either. Later, Lara got in touch with the digital platform and told them she wouldn't accept work through this company specifically. I think she did the right thing. I'm not sure its enough, though.

While these Me Too revelations are upsetting my wife as much as they are me, maybe even more since she has seen a lot of this at close quarters and some of her friends are involved at both ends, the fact remains that the cream of the industry has refused to support the movement. Sajid Khan is not directing Housefull 4 anymore, but is that enough?

A peek at Suhel Seth's Instagram account will reveal photos of him with every famous and powerful person in the country, yet not one has felt the need to say anything about his behavior. People in the know tell me the reason for this is, "Everyone has skeletons in their closet." I don't buy that.

Women who have been in toxic work spaces, and yet are staying quiet need to understand how hard it is for these stories to be shared. Similarly, the men most understand that even if you played your part by being a silent spectator to injustice, now is your chance to set things right.
I think it's important for people to understand what those accused in the Me Too movement have been doing. They have systematically been "preying" on women and in some cases men — who are chasing a dream.. of a job, a role, a promotion, a break.

Last night a friend from the talent industry told me everyone is waiting for a month or so for matters to die down and then it will be business as usual. That's when I decided that I may not have any influence but I do need to say something. I am as guilty as anyone of remaining silent. I have heard stories, directly and indirectly, but I chose to ignore them since " business is business." But that stops today.

Personally or professionally, I have known and engaged with Suhel Seth, Vikas Behl, Anirban Blah, Chetan Bhagat, Sajid Khan and Anu Malik. That ends today on all accounts.

To all those who are in a position of influence through their massive social platforms, I have a simple appeal: Stop engaging. Alienate these "serial predators." Show them that while the law and investigative agencies will take their course, society should — and will reject them. The stance needs to be crystal clear -- guilty unless proven innocent."
#stopengaging . Everyone seems to be horrified about the #metoo stories but why is no one saying anything?#useyourvoice #timesup #CleanUp pic.twitter.com/FGOukZLyuF

— Mahesh Bhupathi (@Maheshbhupathi) October 19, 2018
It is 'Innocent until proven Guilty' and not the other way around. And it takes two palms to clap, one can only flap. — Dr D Datta (@ddatta16) October 19, 2018
I respect d stand taken by you ... but 'guilty unless proven innocent' can be a very dangerous proposition to tread on. Because god forbid if for some reason one of them is not guilty.. his life is ruined basis propaganda. Do we then sit back and say ' expected collateral damage'

— krishnava dutt (@krishnavadutt) October 19, 2018
Very gutsy. You have taken a big risk. Coz you may need to come across them sometimes, somewhere because of the works, other professional engagements. Let's hope you manage it. Salute. — AmiTop Dhakkan (@imaaansari) October 20, 2018
Fully agree to it. Most people already know of these perpetrators. Why to wait until court stamps them, boycott now to weaken them.

— Shinu Soni (@shinusoni) October 19, 2018
Seems you love gossips and fall in the trap of believing it. 'Guilty till proven innocent' is too much from a well eshtablished person. Media trials are new norms for many to force an outcome. Say if thy are found innocent thn will you restart and apologize? NO ONE IS SAFE TODAY! pic.twitter.com/sQaxRzVFUG — Raja Hindustani (@RSS26135927) October 20, 2018
When a person is accused by multiple sources then it's fine to boycott that person. But saying things like "guilty until proven innocent" is too far fetched. Tomorrow if you are accused in some case, would you like your federation to have a "guilty until proven innocent" stand?

— Narayan Subhash Loke (@Narayan_Loke) October 20, 2018
Its cultural acceptance...Somehow @BeingSalmanKhan is the one true guy coming clean off this movement...rmmbr how vivek oberoi's career was smugged bcoz he stood up against it...isolating these guys is an alien concept. . — undefinz (@undefinz) October 20, 2018
All must know that sexual harassment is outrageous & criminal behaviour but some r saying that "flirting & approaching women is now scary". Such people r thief making excuses. Note that pushing too much while approaching women is not gentlemen & not acceptable! Period! #MeToo

— YangChenDolkar (@DolkarChenYang) October 20, 2018
going by your rule is very dangerous, there will now be a campulesion that every meeting of 2 person should be under camera, god knows what happens tomorrow. even an interviewe'd girl can say confirm appointment or I will join #metoo with 2 many probabilities no thumb rule. — राजकुमार दुगङ (@Rajkumardugar8) October 20, 2018