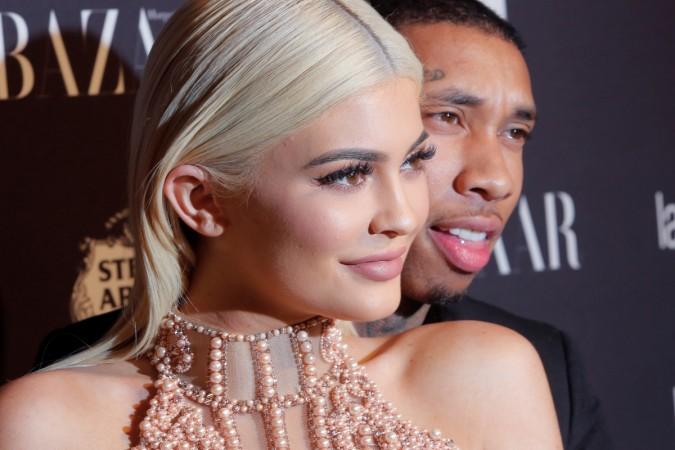 Congratulations may be in order for reality star Kylie Jenner and Tyga. Reports suggest that Kylie and Tyga, who were holidaying in Mexico, have secretly tied the knot.
Also Read: Kylie Jenner and Tyga pack on PDA as she flaunts her curves in thong bikini
While sisters Khloe Kardashian and Kim Kardashian had a grand wedding, Kylie opted for an intimate ceremony. The 19-year-old star has apparently said "I Do" to Tyga in a secret ceremony, which was attended by brother Rob Kardashian and his fiancée, Blac Chyna. The wedding took place at her Hidden Hills, California, mansion and only close family members and friends attended it.
"The wedding was very low-key and organized at the last minute. They only invited family and a couple of close friends because they wanted to keep it very private. Kylie was trying to hold back the tears as she and Tyga exchanged vows. She didn't want her makeup to run all over her white Balmain dress," Life & Style magazine quoted a source as saying.
The only issue with the wedding was that Kris Jenner was convincing her daughter to postpone it. Apparently, Kris wanted a grand wedding for Kylie and so she "tried to persuade her daughter to postpone the secret wedding." However, Kylie assured her mother that she will get married to Tyga again this year for the cameras, the magazine reported.
But Gossip Cop has debunked the report of Kylie and Tyga's secret marriage. The tabloid claims that the "surprise holiday wedding" report is all made up.
Meanwhile, Kylie and Tyga have been in news for their recent public display of affection. Kylie has posted several photographs on Instagram of her short vacation in Mexico. "Kylie isn't just posting for her fans, a lot of these pictures she takes for Tyga. She loves turning him on and a super big booty is his thing, it really gets him hot," Hollywood Life quoted a source as saying.