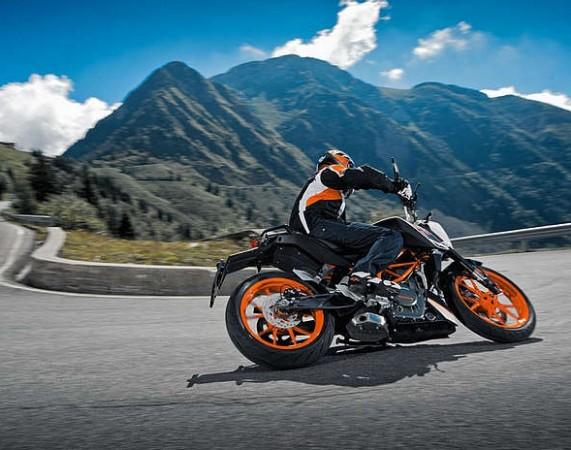 Austria-based motorcycle manufacturing company KTM has reportedly started exporting two new variants of its successful bikes from India to other Asian countries. Sadly, the Indian market will not witness similar fortune as KTM 250 and KTM RC 250 are being shipped to countries like Japan, Hong Kong, Malaysia, Austria, Turkey, and Thailand. According to a CarTrade.com report, 376 units of the 250cc variants have already been exported between 3 April and 1 May.
Ironically, KTM 250 and RC 250 are produced in a facility jointly run by Bajaj and KTM in Pune, India. Bajaj owns 47 percent of stakes in KTM and undertakes a large portion of production and servicing of KTM bikes here. The Austrian auto company already has four models in India, Duke 200, RC 200, Duke 390, and RC 390. Placing the 250cc variants among the existing models will complicate the pricing strategy.
KTM 250 and RC 250 were launched during the Tokyo Auto Show, which swiftly circulated rumours about the India launch. KTM's decision to launch the 250cc variants in international markets heeds to the phenomenal demand by consumers. With an extremely slim possibility of an Indian launch, there is still hope that KTM will replace the existing 200cc variants with 250cc models in the future. But there is no guarantee that such a move will materialise anytime soon.
As for the specifications of KTM 250 and RC 250, both bikes are based on the same Trellis frame shared by other KTM models. The new models are powered by similar 248.8cc engines, capable of churning out 31.3PS of power and 24Nm of torque at 7,250rpm. Other features, including the design and suspension, remain in line with the existing KTM Duke and RC series. In addition, KTM throws in ABS (anti-lock breaking system) breaks and Metzeler tires as add-ons in KTM 250 and RC 250.
The two new bikes are scheduled to go on sale in Japan next month. KTM 250 will carry a price tag of 550, 000 Yen ( around ₹2.88 lakh) and the RC 250 will cost 620, 000 Yen (around ₹3.25 lakh).