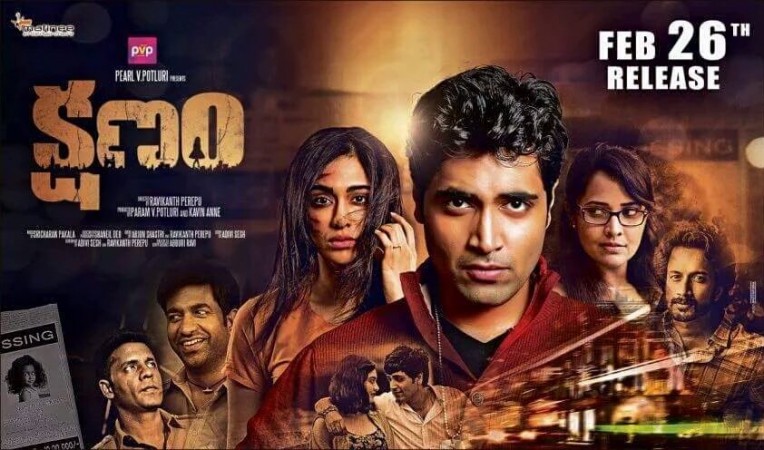 Debutante director Ravikanth's Telugu movie "Kshanam," featuring Adivi Sesh, Adah Sharma and anchor Anasuya in the lead roles, has received positive reviews from the audience.
See: Kshanam Posters | Mahesh Babu at Trailer Launch Photos
"Kshanam" is s suspense thriller that revolves around the mystery of a missing daughter of the heroine. Rishi (Adivi Sesh) is an executive in San Francisco and he rushes back to India after hearing the news about the kidnap of his ex-lover Shwetha's (Adah Sharma) daughter. When the police fail to unravel the mystery, Rishi takes up the responsibility of investigating the case.
The audience say the first half of "Kshanam" is interesting and engaging and the story picks up momentum after interval. The narration in the second half keeps viewers on the edge of the seat.
Adivi Sesh, Adah Sharma and anchor Anasuya have delivered wonderful performances, which are the big attractions of "Kshanam". Ravikanth's screenplay, amazing background score and brilliant picturisation are the other highlights of the film. The lack of commercial elements is a big drawback of the movie, add the viewers.
Many film goers shared their verdict on Twitter after watching the film. We bring to you some unique comments about the movie. Here is the live update of 'Kshanam' movie review by audience:
Idlebrain Jeevi ‏@idlebrainjeevi
#kshanam is a decent thriller that's narrated tightly. Though it had some unconvincing points, director maintained grip in narration.
Sangeetha Devi ‏@Sangeetha_Devi
#Kshanam is terrific. The best Telugu film I've watched this year, so far.
Nitin Chakravarthy ‏@Nitinreddy1111
#Kshanam getting awesome response from all over.... @AdiviSesh brooklio partyyy time.. Nee hard work ki apt result..Congrats @anusuyakhasba
VamsiKaka ‏@vamsikaka 12m12 minutes ago
#Kshanam : One of the best thrillers in the recent times. A dream debut for director @ravikanthperepu . Congratulations to the entire team. Your @AdiviSesh hard work is clearly visible in the film brother. Very happy for you and Congratulations. #Kshanam
Sriram Varma ‏@sriramForU 12m12 minutes ago
Started off slowly and picked up the momentum. Good 1st half @AdiviSesh @anusuyakhasba @adah_sharma @PVPCinema @vennelakishore #Kshanam Fantastic Performances by @AdiviSesh @anusuyakhasba super BGM by #SriCharan Striking debut by dir @ravikanthperepu #Kshanam - Watch out
Hemanth Kumar C R ‏@crhemanth
#Kshanam is damn good...one of the best thrillers in a long time in Telugu. Kudos @AdiviSesh @adah_sharma @anusuyakhasba @ravikanthperepu Ravikanth Perepu is the director to watch our for. What a terrific debut with #Kshanam. And @AdiviSesh ....where were you all these days!!!!
Dheeraj ‏@DheerajDarling
Surprisingly @anusuyakhasba Played a Negative Role in #Kshanam Watched #Kshanam @AdiviSesh was Natural @anusuyakhasba was a Surprise @adah_sharma was Cute & Expressive @ravikanthperepu Tried His Best
Lahari ‏@Lahari_S
#Kshanam one of the best movies in the #Telugu film industry. Excellent story with great character development. props to @AdiviSesh proves #tollywood is creative & doesn't need to rely solely on $$ or big names. True cinema is all in the #story #Kshanam
Naveen C Singh ‏@go4ncsingh
@AdiviSesh #Kshanam FDFS...Interval bang awesome Bro! #Kshanam is a well made thriller which keeps u on d edge! Go watch it.@AdiviSesh #satyamrajesh are awesome!
HARI KIRAN ‏@harikiranroyal
Halfway through #Kshanam - Only one word. "BRILLIANT".Novel Idea presented in much more Brilliant way. Eagerly waiting for second half. #Kshanam-A Brilliant 1st half,good 2nd half wid Top notch performances by @AdiviSesh,@adah_sharma,@anusuyakhasba wil giv u bang for the buck Definitely Not a Commercial Mass Masala film. Novel Thought,Superb Execution,Very Good Background,Superb Performances r highlights.
Sharath Chandra ‏@SharathAnkaraju
Superb first half. Awesome Interval bang! #Kshanam
Tapasi Raju Yerra ‏@TapasiRY
Background music is amazing #Kshanam 'Satyam Rajesh' as Ravi Chowdary is extra ordinary Bheebhathsamaina performance, mind blowing asalu #Kshanam 2nd half is crazy #Kshanam
Chandrakanth ‏@itschandrakanth
#Kshanam...first half...engaging #Kshanam ....Finest thriller...#Adavishesh show al da way. #Kshanam .... .#Anasuya will surprise u.. Go and watch
iQlik Movies ‏@iqlikmovies
@AdiviSesh @anusuyakhasba @adah_sharma @PVPCinema #Kshanam Gripping 1st half & whatta Pre-Interval Twist! Looking frwd to 2nd half @PVPCinema #Kshanam is an Engaging Suspense Drama. @AdiviSesh @anusuyakhasba @adah_sharma wer all Surprises & #SatyamRajesh was a Killer!
YATHIâ"¢ ‏@ursyathi
Ok 1st half #Kshanam - Ok 1st half & below avg 2nd half.
Chenna ‏@chenna_prince
Good First Half #Kshanam #Kshanam Very Good Movie Best Movie Of 2016
Surendra K Naidu ‏@Surendraknaidu
@AdiviSesh #Kshanam gripping, visually pleasing,suspense full. PVP Production values marvelous. #AdiviSesh #Anasuya #SatyamRajesh wow:)
YuppTV ‏@yupptv
#Kshanam movie with lots of thriller elements releases worldwide today.
Telugusuperstars ‏@telugusuperstar
Superbly well made film this, #Kshanam . Films like these are the ones which stand out among hundreds of releases. Kudos @AdiviSesh n team
Nymisha Reddy ‏@nymishareddy523
Congratulations to d entire team of #Kshanam.Director Ravikanth Perupu made audience to forget #Drushyam with his debut film.@PVPCinema