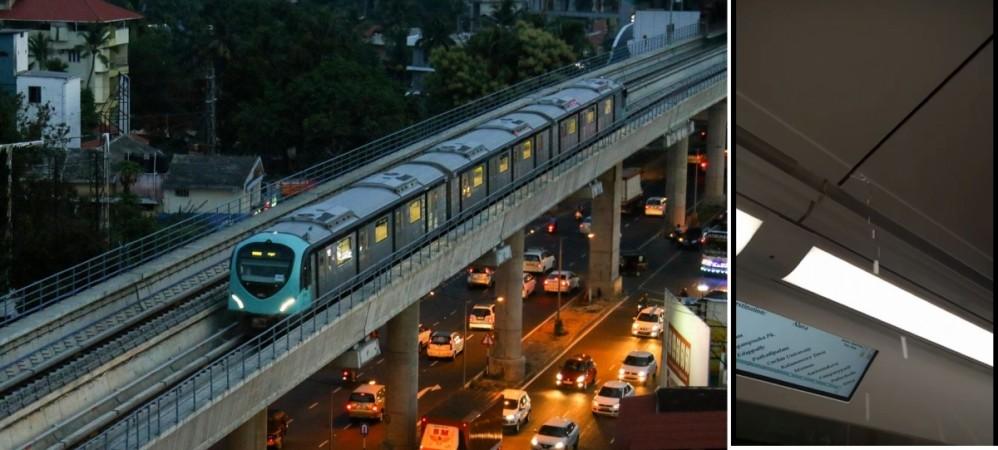 Kochi Metro Rail Limited (KMRL), launched by Indian Prime Minister Narendra Modi on June 17, is indeed the most prestigious project in Kerala. But a video clip captured by a passenger from inside a metro train indicates an apparent "leakage" in one of its coaches.
In the clip, water is seen dripping from the ceiling of the coach, and the video was circulated on social media claiming rain as the reason behind the leakage. However, KMRL has clarified that the leakage is not due to the rain as it is made of stainless steel, and the water is coming out of its air conditioner's vent.
Also read: Is keeping Kochi Metro clean too much to ask for? [PHOTOS]
"Kochi Metro Rail Ltd has noticed that a video is being circulated indicating that there is a leak in the metro due to rain. KMRL would like to clarify that it is not the leakage due to rain. The train is constructed with stainless steel material, and there will not be any leakage due to rain. It is the water coming out of an air conditioner vent," reads the Facebook post by Kochi Metro Rail.
Check Kochi Metro's do's and dont's
They have also claimed that the drain pipe kept below the car body could have got damaged when the metro train moved through curved tracks creating reverse pressure to the pump. Calling it as a minor issue, they have also explained that the minor issue will soon be rectified in the coming days. Due to the leakage issue, the AC drain pipe of new metro trains will be changed to a different location.
"The drain pipe end from the air conditioner is kept below the car body for draining water got damaged while moving on curves and created a reverse pressure to the pump and dropped water to saloon. This is a minor issue only. We had already identified it and have communicated to the manufacturer. The new sets of trains are coming with the location change for AC drain pipe and will not have this issue. However, the existing trains are going through the rectification one by one," KMRL clarified.
Meanwhile, a few other photos doing the rounds on social media indicate that people have already started damaging the facilities in the metro in less than a week after its opened to the public. One of the image shows graffiti on the white pillar inside the platform of Pathadipalam metro station, and waste papers are also seen dumped near the window of a coach in another picture. A photo of a man sleeping in the train occupying the space of at least three passengers has also surfaced online making us wonder, "where are our manners?"
Here is the video of Kochi Metro that has gone viral on social media: