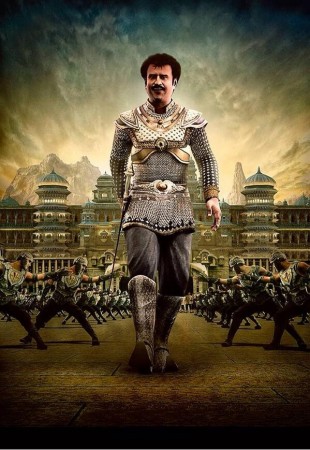 Superstar Rajinikanth's "Kochadaiiyaan" is all set for a big release on 23 May. The film, which was slated to hit the screens on 9 May, was delayed due to technical snags.
The Rajinikanth starrer is now confirmed for worldwide release on 23 May. The film's overseas prints and digital KDM (a security key that contains a code which unlocks an encrypted film) are delivered for both the Tamil and Telugu 2D and 3D versions.
The film's premiere shows (with subtitles) have been confirmed for 22 May in overseas markets. "#Kochadaiiyaan and #Vikramasimha both Tamil and Telugu 3D and 2D versions KDM delivered, premieres confirmed, all versions HAVE SUBTITLES!," ATMUS Entertainment , "Kochadaiiyaan"s distributors in the US, has tweeted.
The historic drama, deemed as India's first 3D film using photorealistic motion capturing techniques, is expected to release in more than 3,000 screens worldwide.
The Tamil and Telugu versions (combined) will be releasing in more than 200 screens in the United States, where Indian films have a good market.
The Tamil version will be out in more than 100 screens, while the Telugu version will be hitting more than 50 screens in the US. To check the US theatre list, click HERE.
The Telugu version – "Vikramasimha" – is likely to have a limited release in Andhra Pradesh as another biggie is set to be hitting theatres on the same day. Akkineni multi-starrer "Manam" will be out on the same day and the film is expected to get more number of screens.
Advance Bookings
The advance bookings for "Kochadaiiyaan" have commenced and theatres are getting fantastic response. In Chennai, the response for the advance bookings has been huge.
One of the popular multiplexes in Chennai, Mayajaal, has 16 screens and they are reportedly planning to arrange 100 shows in a day for the Rajinikanth starrer, reported Cinemalead. In that case, the film will break the record of "Enthiran" which was allotted 90 shows when it hit the screens in 2010.
Other multiplexes are also planning to sell record number of tickets for "Kochadaiiyaan" every day. Sathyam Cinemas will screen the film in its multiplexes - Sathyam, S2 Thyagaraja, Luxe and S2 Perambur. They are planning to sell more than 14,000 tickets daily. AGS Cinemas is planning to sell approximately 10,000 tickets, reported the Hindu.
At this range, "Kochadaiiyaan" is set out for the biggest opening for a 3D film produced in India.
Highlights
Rajinikanth
Photo-realistic 3D film with motion capturing technology
AR Rahman's music
War scenes
Fight Sequences
Shiv Thandav
Box Office
"Kochadaiiyaan" is set for fantastic openings on the first day as "Thalaivar" Rajinikanth has a huge fan following. The film will have a solo big release in Tamil Nadu, as there are no other Tamil releases. However, the historic drama will be clashing with "Manam" and "Heropanti" in Telugu and Hindi, respectively.
Despite the other releases, "Kochadaiiyaan" is likely to take solid openings worldwide. Whether the film will be able to sustain well at the box office will depend on its content. If "Kochadaiiyaan" manages to impress the audience and get positive reviews, it is likely to do good business at the box office.
Cast and Crew
"Kochadaiiyaan" has Rajinikanth, Deepika Padukone, Jackie Shroff, Nassar, Sarathkumar, Aadhi and Shobana in pivotal roles. Veteran actor Nagesh has been brought to life using the advanced technology.
Director - Soundarya
Music - AR Rahman
Cinematography - Rajiv Menon
Editing - Anthony
Production - Eros International and Media One Global Entertainment.