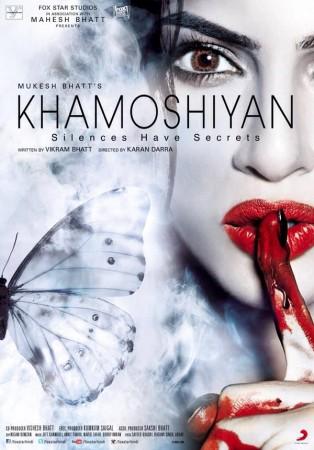 Television superstar Gurmeet Choudhary might come across as confident in the sneak peeks of his debut film "Khamoshiyan", but turns out it took a lot of effort to get him to do a few intimate scenes with co-star Sapna Pabbi.
It has been said that his wife had to request him to do the scenes as the script required it.
"She has always been very encouraging. She's an actress herself. She understands this business. She knows everything I do, whether a love sequence or a fight sequence, that it's all make-believe," DNA quoted Gurmeet as saying.
Gurmeet and Debina share a heart-warming love story and are irrevocably in love with one another. Their story is a little less than a decade old and the foundation of their relationship is what makes their understanding of each other so hassle free and crystal clear.
Debina, who also plays a crucial role in the film along with Ali Fazal, once reportedly said that the actor was a confused lover adding that he would shower her with gifts that would fail to make any sense most of the times.
He might be a clumsy boyfriend but Mahesh Bhatt opines he is an extremely talented actor. "Gurmeet lights up when the camera rolls. That's the quality I had seen in Sanjeev Kumar. He used to be normal otherwise, but the minute you put him in front of the camera, he became someone else," The Times of India quoted the veteran filmmaker as saying.
"Khamoshiyan" also marks Sapna's Bollywood debut. "I have been blessed up till now, I think, especially by you sir and my director Karan Dara, who believed in me and who had faith in me...if this faith and this belief keeps coming from all those guidance and the wise ones around me, then I guess there is no stopping," Pinkvilla quoted her as saying.
Slated for release on 30 January, the film is directed by Karan Dara and produced by Vishesh Films.