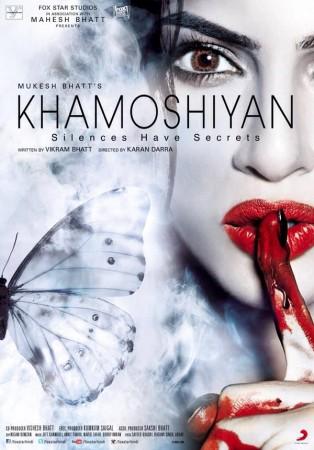 IBTimes India Rating: 1.5
Trust me when I say you'd be making yourself useful reading Kamaal Rashid Khan's tweets than spending a good two hours at the theatre watching a painstakingly boring supernatural thriller.
Kabir (Ali Fazal), a one-book wonder author looking at rediscovering oneself and finding an interesting story, finds himself attracted to smouldering guest house owner Meera (Sapna Pabbi). What follows is a whirlwind romance peppered with some mystery. As ungodly incidents begin to occur in the house, he takes it on himself to unearth Meera's past.
But the attempts are nothing but pointless, as we all know how the protagonist remains unaware of the truth until there's an in-your-face occurrence. The cheap thrills – squeaky doors and flickering lights – fails to give you the creeps, and dialogues seem to be suffering from a severe 90s hangover.
Director Karan Dara's "Khamoshiyan" could've been engaging had it not been wrapped up in haste. With 2-hour run time, there's enough mystery to keep you on the edge, but the climax is a major let down. Had the director not given in to the temptation of using tried and tested plot devices, it could have turned out to be a novel fare.
Ali delivers as a desperate lover and author making incessant efforts to unravel the secret. While he has grown as an actor, debutant Sapna, as the seductive hotel owner, is more like a damp fire cracker, which fizzles out even before taking off. Gurmeet Choudhary (Jaidev), as the bed-ridden husband to Meera, had an extended cameo but looks like the director gave him the latitude to flaunt his chiseled contours.
The highlight of the film is its music. The lead pair romancing in the icy Kashmir valleys to melodious numbers transports one to a world of dreams. Jeet Ganguli, Ankit Tiwari and Naved Jafar's compositions and Arijit Singh's heartfelt renditions are the real stars.
And yes, adding to the tagline -- 'Silences have secrets' and empty theatres.