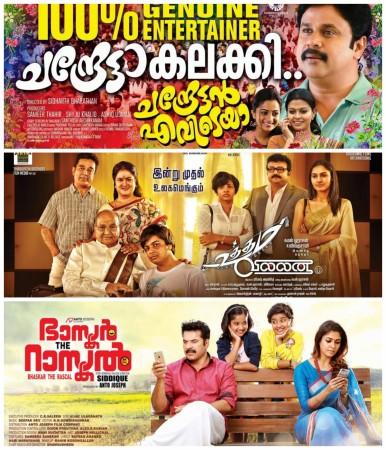 The weekend box office collection of movies in Kerala suggests that the theatres in Kerala had decent theatre occupancy in the state.
According to various reports, Dileep's latest movie "Chandrettan Evideya" has managed to pick up more in the weekend after an impressive start. Kamal Haasan's Tamil movie "Uttama Villain", which faced cancellation of shows on 1 and 2 May (Friday and Saturday) managed to have average collection at the box office.
Meanwhile, Mammootty's "Bhaskar The Rasacal" is continuing its success run by placing itself in the spot in its third weekend.
Sources claim that "Bhaskar the Rasacal" made a total gross collection of ₹13.77 crore from 19 days and is still managing to get good theatre occupancy of family crowd.
When it comes to Dileep's "Chandrettan Evideya", the film has reportedly managed to gross ₹1.84 crore in three days.
However, things don't look that great for the latest Kamal Haasan movie, "Uttama Villain". The movie has reportedly got average response. It grossed ₹67 lakh from two days, but in terms of business, the numbers don't look favourable as the distribution of the film in Kerala has been bought for ₹2.25 crore.
Meanwhile, the latest Kunchacko Boban-Rima Kallingal starrer "Chirakodinja Kinavukal" got a slow start and is placed at the fourth position. The release of new movies has also pushed "Oru Vadakkan Selfie" to the fifth postion.
May 1-3 wknd Kerala BO : 1 #BhaskarTheRascal 2 #ChandrettanEvideya 3 #Uttamavillain 4 #ChirakodinjaKinavukal 5 #OruVadakkanSelfie

— KeralaBoxoffice (@KeralaBO1) May 4, 2015
#BhaskarTheRascal continues to be No1choice of families & tops BO for 3rd wknd too ! Grossed 13.77cr frm 19 day !Share nears 6cr ! #Superhit — KeralaBoxoffice (@KeralaBO1) May 4, 2015
#Uttamavillain grossed apprx 67 lks frm 2 days in Kerala ! Avg start & reports ! Moving towards disaster as rights hv gone for 2.25cr !

— KeralaBoxoffice (@KeralaBO1) May 4, 2015
Dileep's #ChandrettanEvideya picked up well during wknd aftr a slow start on Friday ! Grossed apprx 1.85cr in 3 days ! #AvgStart — KeralaBoxoffice (@KeralaBO1) May 4, 2015