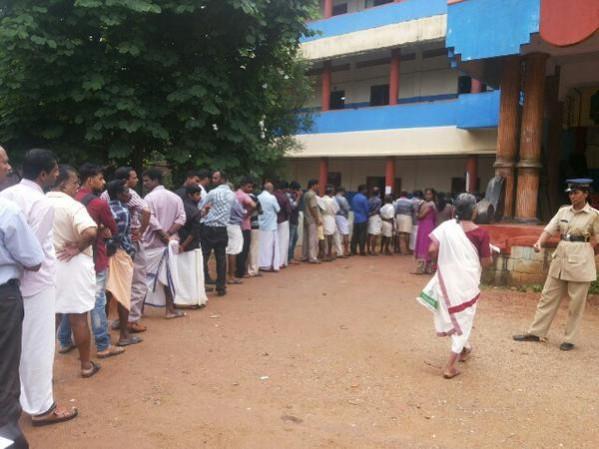 [Check out Kerala local polls results HERE]
The second phase of Kerala local body election recorded a voter turnout of 74% at the end of the day.
Polling was disrupted in Malappuram after several Electronic Voting Machines (EVMs) were found tampered with glue and cello tape. Over 270 EVMs were found to be faulty as glue was poured and cello tape inserted into the button slots of the machine.
The two-phase Kerala local body elections, which began on 2 November, will conclude on 5 November. The results will be declared on 7 November.
The first phase of the polls recorded 77.83% turnout from 1.11 crore voters in seven districts including Thiruvananthapuram, Kollam, Idukki, Wayanad, Kozhikode, Kannur and Kasaragod
The second phase covers Alappuzha, Pathanamthitta, Kottayam, Ernakulam, Thrissur, Palakkad and Malappuram.
[Check out Kerala local polls results HERE]
There are two municipal corporations - Kochi and Thrissur - as well as 55 municipalities in these districts.
Out of 1.4 crore voters, 86 lakh are female voters and 53.8 lakh are male voters.
There are 44,388 candidates contesting across 12,651 wards in the second phase.
Second phase civic body polls in figures
| | |
| --- | --- |
| Total no of voters | 1.4 crore |
| Male voters | 53.8 lakh |
| Female voters | 86 lakh |
| Candidates | 44,388 |
| Total no of wards | 12,651 |
| Municipal Corporations | 2 |
| Municipalities | 55 |
District-wise voter turnout
Alappuzha: 77%
Pathanamthitta: 70%
Kottayam: 77%
Ernakulam: 73%
Thrissur: 71%
Palakkad: 77%
Malappuram: 74%
Here are live updates on Kerala panchayat and municipal election:
[Check out Kerala local polls results HERE]
5:11pm: 74% voting recorded till 5pm.
4:46pm: Voter turnout reaches 73% till 4:30pm.
4:15pm: 70% poll percentage till 4pm.
3:03pm: 61% voter turnout till 3pm; Kottayam leading with 70% polling.
2:32pm: 53% voting recorded till 2:30pm; Kottayam has highest polling (64%), while Malappuram has the lowest (48%).
2:15pm: 50% poll percentage till 2pm; Kottyam leading with 60% polling.
1:12pm: 45% voter turnout till 1pm; Highest polling in Kottayam (55%).
12:45pm: 42% polling till 12:30pm; Alappuzha leading with 46%.
12:32pm: A 40-year-old man dies after casting vote in Ernakulam district.
12:27pm: KR Gouri Amma casts vote in Alappuzha.
12:15pm: 34% polling recorded at 12pm
11:54am: Government requests repolling at booths where polls were disrupted over three hours.
11:43am: 30% voter turnout till 11:30am; Alappuzha leading with 32%.
11:31am: Electronic Voting Machines (EVMs) tampered in Malappuram. State Election Commission suspects attempt to sabotage polls.
11:07am: 24% poll percentage at 11am; Alappuzha leading with 28%.
10:37am: Voter turnout recorded at 20% at 10:30am
9:50am: Polling percentage reaches 14%
9:15am: 11% polling recorded at 9am
9am: Voter turnout reaches 8%.
8:52am: Malappuram, Kottayam leading in polling with 7% turnout.
8:17am: Voter turnout reaches 5% at 8am.
8:08am: Former Thrissur MP PC Chacko said the Bar Bribery case would not affect the polls.
8:05am: Indian Union Muslim League state president Hyderali Shihab Thangal said the party will have huge majority in Malappuram.
8am: Polling percentage reaches 4% at 7:45am
7:30am: Polling delayed in many areas due to technical glitches in voting machines
7am: The second and final phase of Kerala civic polls begins