Kendall Jenner has a pretty wet and wild weekend in Greece. After supporting the LGBT community, parading down the streets of London as part of the London Pride 2017, the model and her BFF Bella Hadid flew down to Greece for a fun pool party. And from the pictures that have surfaced online, the duo had a ball.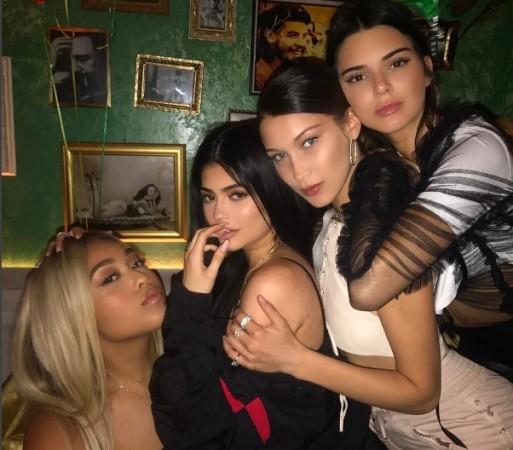 Joining her friends from the fashion industry at a raucous Mykonos beach party, Jenner was seen sporting a flowing black sheer dress. Ditching the bra, Kendall let her nipples free at the beach party. Maintaining a perfect balance between chic and casual, the 21-year-old sported a pair of classy black shades and gold ear loops.
Hadid stood watching the action by the shore wearing a thong bikini. Ready to dive into the water, Hadid looked like she had come prepared. Keeping her modesty in place, the 20-year-old opted to don a white sheer cover-up over the thong bikini. She decided to pull back her hair into a high pony and sported huge golden ear loops as well.
Enjoying her weekend, Kendall exhibited her wild side as she walked out of the water holding a drink in hand. It was when a male friend carried and dunked her into the water that her dress hugged her assets, giving attendees a view of her peeked nipples. However, that did not stop Kendall from diving into the water again and enjoying the party.
Clearly, there was no stopping Kendall from the fun in Greece.
The globetrotters are having one helluva summer. From fashion gigs to parties and awards, Kendall and Bella are everywhere. From the time they flew out of Los Angeles last week, the duo has had a packed week. They were busy with their fashion gigs in Paris and partying their way through the fashion capital.
Kendall and Bella were also seen spending some time with Kylie Jenner at the recent Wireless festival. From London to now Greece, the two are taking the world by storm. And they aren't tired from the fun either.
A few photos of Kendall Jenner and Bella Hadid from the party: