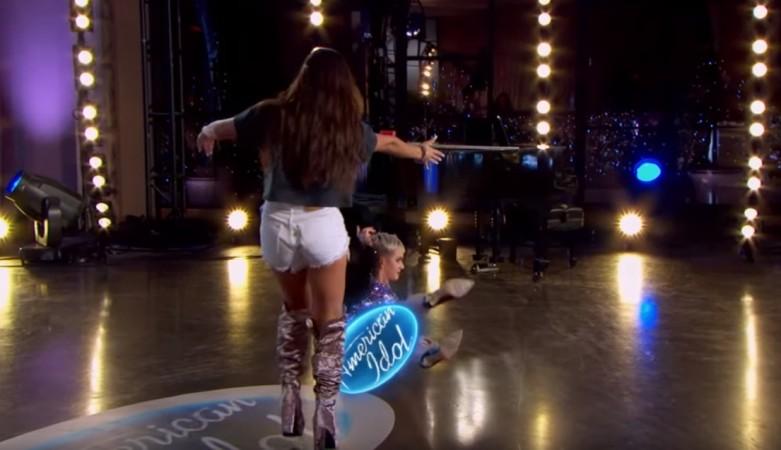 American Idol season 16 (2018) has just started with the audition rounds and the drama has started with it. As expected, pop star Katy Perry with her glamor quotient, fabulous fashionable outings, and her cool attitude has taken the reality show notches up. After kissing a contestant in the first audition episode, the "I Kissed a Girl" singer suffered a wardrobe malfunction on the second night of the show.
The wardrobe malfunction happened during the performance of a contestant named Michelle Sussett, who sang Selena's Techno Cumbia.
Lionel Richie and Luke Bryan, who was judging the show, along with Perry, rose from their seats to dance with the contestant. Katy Perry, who was wearing a sparkly mini off-shoulder dress, too joined her fellow judges on the floor.
However, while dancing the 33-year-old Roar singer slipped and fell on the floor, revealing her undergarments, and her short dress didn't help.
Everyone, including the judges and the contestant, looked visibly shocked. The makers of the show used the American Idol logo to cover up the malfunction for the viewers.
Katy Perry looked composed and didn't seem to care much.
In the earlier episode when 19-year-old Benjamin Glaze, from Enid, told the judges he hadn't kissed a girl, she asked him to come over for his first kiss. When the teen showed his cheek for a peck Perry, turned his face towards her and kissed him on his lips.
American Idol season 16, kicked off on March 11. Unlike previous years the makers roped in new judges by replacing earlier judges Jennifer Lopez, Keith Urban, and Harry Connick Jr.
ABC has brought back the once-popular reality television show after Fox discontinued it almost two years ago. The show is known for producing some of today's biggest stars, including Kelly Clarkson, Carrie Underwood, and Jennifer Hudson.