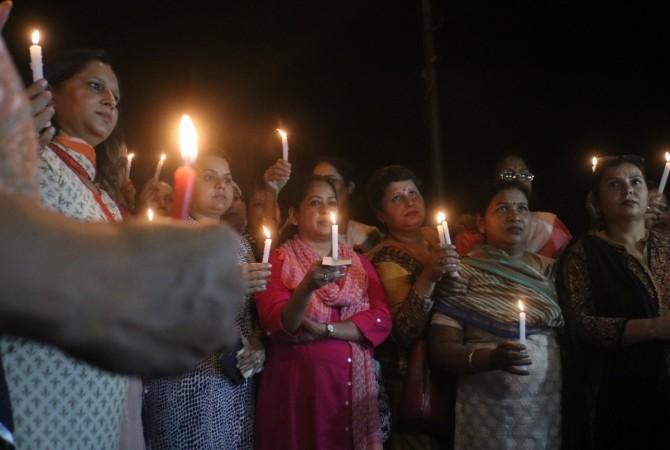 Superstar Kamal Haasan, Prakash Raj, Taapsee Pannu and a host of celebs from the south Indian film industry have condemned the brutal rape and murder of 8-year-old girl in Jammu and Kashmir's Kathua district and demanded justice for her.
The girl, who belonged to the nomadic Bakerwal Muslim community, had reported missing from near her house January 10. A week later, her body was found near the house. A special investigation team has arrested 8 people in connection to the brutal rape and murder of the girl.
The Bar Association of Jammu (BAJ) has opposed the action against the accused saying that minority Dogras are being targeted. On the other hand, many BJP supporters have reportedly abandoned their tough stand on sexual violence on the basis of religious prejudice. The religious angle to the brutal rape and murder case has sparked a hot debate in India. And many celebs from south India have now expressed their views.
Does it have 2 b ur own daughter fr u 2 understand? She could've been mine. I feel angry as a man, father & a citizen fr failing Asifa. I m sorry my child v didn't make this country safe enough fr U. I'll fight fr justice at least fr future kids like u. V mourn u & won't forget u

— Kamal Haasan (@ikamalhaasan) April 13, 2018
#UnnaoCase #Asifa ..as a parent my heart screams in pain...how much more will we tolerate as a society.. how long will we be silent to such acts of communalising crimes..when will our conscience wake up to question..to fight..and put an end to this communal narrative #justasking

— Prakash Raj (@prakashraaj) April 13, 2018
So now a crime like rape is also basis country n religion... that's what we have stooped down to with our analysis. Can we stop shamelessly pointing fingers and accept that we have failed #Asifa as a nation and made a shameless joke out of this heinous crime!

— taapsee pannu (@taapsee) April 12, 2018
Priyadarshi: Rapists, murderers and a section of society that's backing them! What a morally bankrupt society we are living in...
The next time you say or think that "God will take care of everything", you better be careful #Asifa was raped in a TEMPLE for 3 days and then murdered. Neither us nor the great God could help that child in any way. #JusticeforAsifa #NoGodOnlyDevils

— Priyadarshi (@priyadarshi_i) April 12, 2018
Gutta Jwala: We as country have become the greatest audience in the world We r not able to stand for an 8 yr old girl who was tortured for days n raped!!how does it matter what religion she belongs to? If we don't stand up now..when will we?? I am sick to my stomach right now I hope for the sake of our faith in the system...justice is done.. #UnnaoHorror #UniteForHumanity #humanityfirst #UnnaoRapeCase We as a nation have allowed this...this sick men who thought they could do such thing to an eight year old n get away!! We have allowed it!!! #disgusted #wakeuptime
Sania Mirza: Is this really the kind of country we we want to be known as to the world today ?? If we can't stand up now for this 8 year old girl regardless of our gender,caste,colour or religion then we don't stand for anything in this world.. not even humanity.. makes me sick to the stomach.