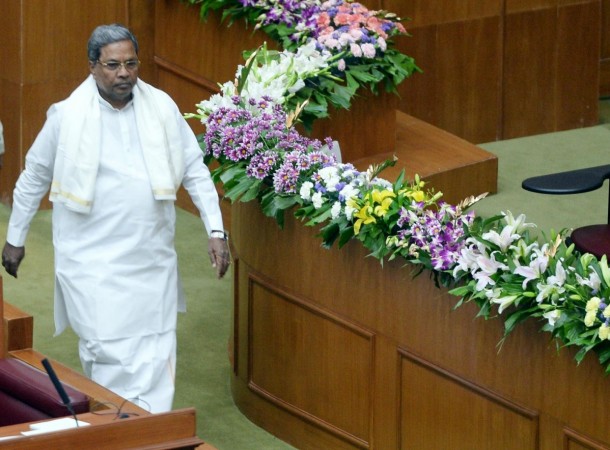 Taking exception to the 'Lambani remarks' of Goa Tourism Minister Manohar Ajgaonkar, Karnataka Chief Minister Siddaramaiah has written a strongly-worded letter to his Goa counterpart seeking action against Ajgaonkar's decision to evict Lambanis from the Goa beaches. The Lambanis are members of a nomadic tribe mostly belonging to Karnataka.
Read: Karnataka CM Siddaramaiah orders police commissioner to probe Bengaluru school molestation case: 5 questions that need answers
Siddaramaiah has sought action against Ajgaonkar for making denigrating statements against the community.
Ajgaonkar has recently said Lambanis should be removed from the beaches if they harass foreign and domestic tourists. He further added that the Lambanis don't fit into Goa culture. Following which, Siddaramaiah wrote to Manohar Parrikar saying the statement made by his minister had instilled fear among Lambanis, who consider Goa as home and have lived there with dignity for generations. They have in turn imbibed the Goan language and culture and even contributed to the growth and development of the state.
"I request you to ask the minister concerned to exercise restraint on such utterances," he wrote.
"You would agree that our Indian culture calls for living in unity amidst diversity. Keeping this in view, I shall appreciate any positive action taken," added Siddaramaiah.
Karnataka water resources minister retaliates
Last week, MB Patil, district in-charge and Water Resources Minister of Karnataka told reporters that the government is not happy with the decision of Ajgaonkar.
"No state can ban the entry of a particular community as this is against the fundamental rights of citizens. The state government has taken the matter seriously and urged the Goa government to desist from making such controversial statements. Such statements would only create conflict between two States," said Patil.
"If the Goa government continues to maintain such a hostile attitude, then the Karnataka government would be compelled to take a harsh decision. The Goa government must remember that Karnataka supplies a large quantum of fruits, vegetables and other consumable products to Goa which we may have to stop transporting," Patil added.
Karnataka tourism minister reacts
But Siddaranmaiah and Patil aren't only ones who were riled up by the remarks of Ajgaonkar. Ajgaonkar's counterpart in Karnataka, Priyank M Kharge, has also lashed out at him.
"Why single out Lambanis, why not Russians? Crime is not limited to one community or country. It's unfortunate that a minister has issued an irresponsible statement targeting one particular community. It's strange that the BJP is happy with foreigners but doesn't want Indians," said an angry Kharge.