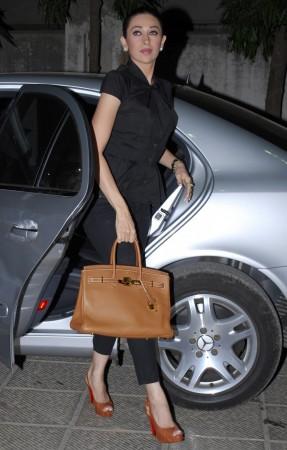 Bollywood actress Karisma Kapoor's personal life has come under scanner as her estranged husband Sunjay Kapoor filed for the custody of their two children.
Karisma, who married Sunjay back in 2003, has daughter Samaira and young son Kiaan with him. Reports of strain in the couple's marriage had long been in speculation, but now Sanjay has claimed the children's custody, hinting at the legal separation of the duo.
Sunjay's lawyers have already filed petition in Bandra Family Court seeking the custody of his two children. The businessman is said to have taken the step after Karisma refused him to meet their children, according to a Mumbai Mirror report.
The actress is expected to fight back for the children. The tabloid further claimed that Karisma, who has been staying in Mumbai, away from her Delhi-based husband Sunjay for a long time now, is finally considering divorce.
The legal separation was even voiced by one of Sunjay's friend who revealed, "I think the time has come when they want to break free from their marriage and move ahead in life," reported the daily.
The separation reports have further gained prominence as buzz of Sunjay's close friendship with socialite and former model Priya Sachdev are doing rounds.
Sachdev, who is the former wife of billionaire hotelier Vikram Chattwal, has regularly been spotted with Sunjay at Delhi nightspots, claims the report and it has to be noted that Karisma is obviously unhappy with this liaison.
"Karisma definitely does not like Sunjay's proximity to Priya. She is extremely stressed out. She's keeping quiet because Kapoors don't wash their dirty linen in public. But she will answer Sunjay in court," a source close to the actress informed the tabloid.
Both Karisma and Sanjay haven't issued any official statement with respect to the custody of their children or on their marriage yet.
Recently, showbiz couples like Hrithik Roshan-Sussanne Khan and Rahul Mahajan-Dimpy Ganguly also filed for legal separation.