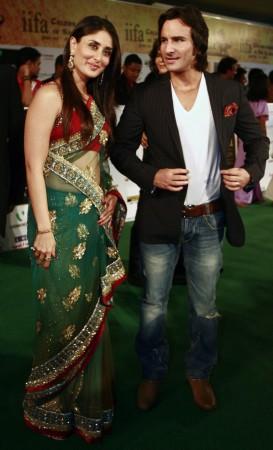 Even as Saif Ali Khan and Kareena Kapoor have repeatedly denied reports of their reunion on the big screen, latest buzz in tinsel town is that Kareena will make a cameo appearance in her hubby's upcoming venture "Happy Ending".
Earlier, Saif had claimed that the couple is not be interested in sharing screen space as he felt that their chemistry fizzles out when they are cast opposite each other.
"It's something that happens to me when I'm working with her, I'm not as interesting on screen," he told The Times of India.
"I become like how I am when I am with her, which is not interesting. Normally, an actor is competitive, and that makes for good chemistry on screen. The chemistry goes a bit flat when you're too comfortable," he added.
Ever since Kareena and Saif tied the knot in October last year, there were speculations that they would soon be paired together. But the celebrity couple was least interested in reuniting on screen.
Even Kareena denied the reports of doing a film together. "I don't think Saif believes that we'll look good in a film together! He's busy with his leading ladies," she said.
However, latest rumour has it that Kareena will make a guest appearance in "Happy Ending" which is co-produced by Saif and Dinesh Vijan.
"Kareena has a special appearance. The makers are tight-lipped about it as they are still contemplating if she will do a significant scene, or just a song with Saif. The three-day shoot will take place in USA. They will keep the shoot closely guarded, as they don't want any pictures leaking out," Hindustan Times quoted a source as saying.
Saif and Kareena had done a couple of films together such as "Kurbaan" and "Tashaan". They first shared screen space in JP Dutta's "LOC: Kargil". They were also seen together in several advertisements for Airtel and Head & Shoulders.