Kareena Kapoor Khan and Saif Ali Khan's son, Taimur Ali Khan is undoubtedly one of the most popular star kids, and the increasing popularity has now started to make his grandmother worried.
It has been reported that Sharmila Tagore is not happy about Taimur being in constant limelight as she feels this would forbid him from having a normal childhood. Her concerns turned more serious after a doll resembling Taimur was discovered recently.
"She was as startled by the emergence of the doll as anyone else. The family is still trying to come to terms with Taimur's overwhelming popularity. Saif was summoned by his mom (Sharmila Tagore) to discuss the issue. Normally, Sharmilaji is the most non-interfering mother you will find. But now with two-year-old Taimur being constantly in the limelight, she feels some measures must be taken to provide the child a normal life," The Asian Age quoted a source as saying.
Earlier, Kareena had expressed her discontent at Taimur being constantly under media glare, and she was startled to see the doll designed as the child's lookalike.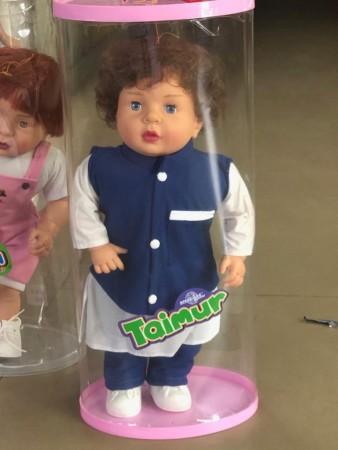 "Taimur can't run away from his popularity and neither can his parents. When I saw the doll, I wondered what was I supposed to say. But Saif pointed out that it is because people love him so much and such things are a blessing for him. There is so much genuine warmth for our son that it's bad to stop people from clicking his pictures or making his dolls. But, they should understand that he is a two-year-old child and needs a normal life. Both Saif and I are struggling to give him that and will continue to do so without telling the media to back off, no matter how annoying it gets after a point. It's tough on him as it's on Saif and me," the actress had said.