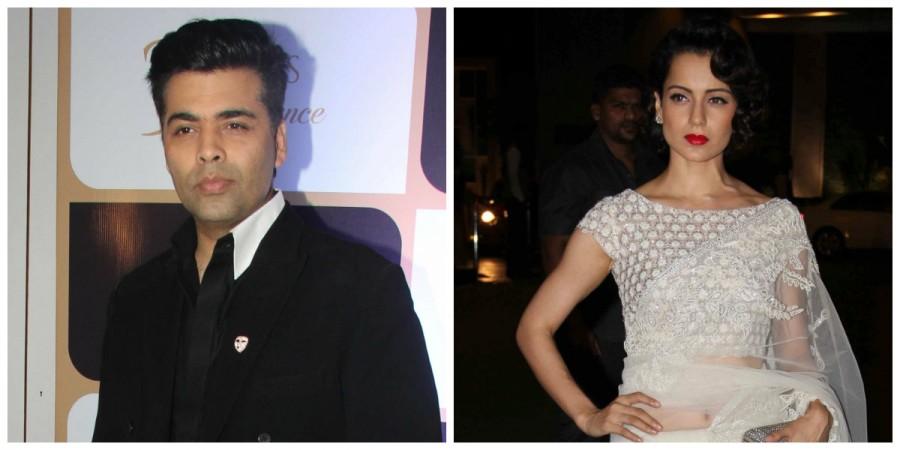 A lot has been said and done since Kangana Ranaut called Karan Johar the "flagbearer of nepotism" on Koffee With Karan 5. After much frenzy, a video has now gone viral where Karan is seen admitting that he is guilty of nepotism.
Also read: Top 5 controversial statements of Kangana Ranaut that will shock you
In the video, he said: "I picked up a chubby girl (Alia Bhatt) and I felt something. Maybe the fact that she was Mahesh Bhatt's daughter also excited me. I don't know. Right now I may say no but maybe that has been a very strong sub-layer. And that is nepotism and we are guilty and I am guilty. I am definitely guilty."
Now, before you jump to any conclusion and think that Kangana has won this war of words we would like to tell you that the video is from 2014 when the filmmaker appeared on Anupama Chopra's show The Front Row with Deepika Padukone and Tisca Chopra. It looks like Karan's past is back to haunt him and this might just work out in favour of Kangana.
The actress has been supported by some and slammed by others for accusing KJo of nepotism, but it now looks like the Rangoon diva has won the battle. In the footage, Karan is seen talking about casting Varun Dhawan and Alia Bhatt in Student of the Year because they are star kids. He also said that he wouldn't be a filmmaker if he wasn't a producer's son.
"Would I have been a filmmaker? I am a producer's son. I had no experience, I was an assistant on one film, my father had the platform to give me and therefore I am a filmmaker. If I go through any struggle in my career then I deserve it," KJo said.
Watch the video here: