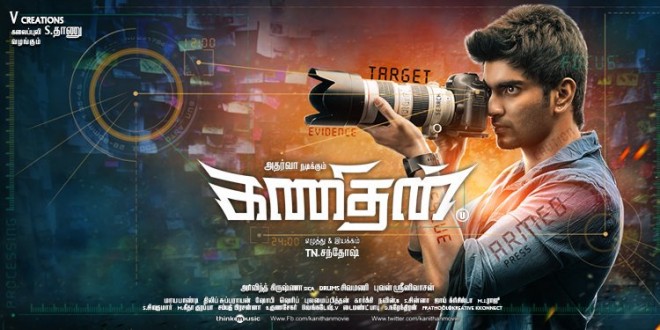 Atharvaa's "Kanithan" has garnered fairly positive reviews. The Tamil movie is written and directed by TN Santhosh and produced by Kalaipuli S Dhanu.
'Kanithan' Audio Launch Photos
Catherine Tresa has paired up with Atharvaa in "Kanithan." Tarun Arora, K Bhagyaraj, Manobala, Karunakaran, Sunder Ramu, YG Mahendra and others are in the cast. It has Sivamani's music, Arvind Krishna's cinematography and Bhuvan Srinivasan's editing. The Tamil movie is bankrolled by leading producer Kalaipuli S Dhanu.
The trailer of "Kanithan" generated good buzz around the movie and good words about the Tamil film from Rajinikanth has come as a big boost to "Kanithan". As a result, there is a good pre-talk about the flick.
"Kanithan" is a thriller that tries to throw light on the modus operandi of fake documents mafia. Engineering graduate Gautham (Atharvaa), who works as a TV journalist, gets arrested for allegedly cheating banks using fake documents. The remaining part is how he proves his innocence by exposing the real culprits of the scam.
Average Rating Given by Audience: 2.5
Reviews:
People are praising the subject even though the screenplay loses momentum at parts and has logical loopholes. The director's narration reminds the viewers of his guru's blockbuster "Thuppakki." The biggest drawback remains the placement of songs. Nonetheless, the director gets full marks for doing a lot of research and handling a very difficult subject with ease. Atharvaa is good in his role but Catherine Tresa is completely wasted. Technically, cinematography is brilliant but music is a big let down. Here, we bring to you the audience response to the Tamil flick:
Sidhu tweeted: #Kanithan: Right amount of brain and brawn with near perfect casting. The action sequences from the interval onwards are a treat.
#Kanithan: Punchy, terrific thriller. This layman's Thuppakki is Atharva's most entertaining film till date. Enjoyed it!
#Kanithan Interval: Very very good. Some comedy, sentiments with a solid dose of thrill at the interval block. This is fun.
Sreedhar Pillai posted: #Kanithan 2.75/5. Tarun Arora the villain is impressive along with camera of #AravindKrishna especally night scenes. #Catherine nothing much
#Kanithan 2.75/5. At times racy, but frequent songs and comedy scenes hamper the pace.@Atharvaamurali ok as a mass hero, not in #EEti leauge
#Kanithan 2.75/5.Works in bits and pieces.#Santosh's template guru @ARMurugadoss's Thuppakki. Subject of fake educational certificates good
Ramesh tweeted: #Kanithan [3/5]: Dir @tnsanthosh proves he is a worthy student of his Guru Dir @ARMurugadoss - Songs placements is da only minor issue..
#Kanithan [3/5]: #DrumsSivamani songs are peppy.. #ArvindKrishna 's camera work is glossy.. #Bhuvan 's editing is good..
#Kanithan [3/5]: Good Supporting Cast - New Villain #TarunArrora , #KBhagyaraj , @actorkaruna , @sunderramu @manobalam and many others..
Kanithan [3/5]: #CatherineTresa looks the best among her Tamil movies so far.. Good job @joy_stylist - @raveena116 's voice suits her well
#Kanithan [3/5]: @Atharvaamurali as the city boy looks stylish.. Convincingly portrays Ambitious Journalist role.. Excels in action & dance
#Kanithan [3/5]: An intelligent thriller which looks at degree certificate scam in detail.. Gud Entertainment elements - Songs, Comedy etc.,
ChristopherKanagaraj wrote: #Kanithan Postives - Atharvaa, action sequence choreography,Cinematography,plot. Negatives - Thuppaki similarities, Music, Dialogues.Logic
#Kanithan | Special credits to @rekhshc & team for the subtitles work. Comfortably I took my non tamilian 4nd along with me. She was happy:)
#Kanithan - Above average thriller, plus -Atharva, pretty interesting screenplay.minus - logics, predictable scenes, music.Can b watched 1ce
#Kanithan - Interesting first half! Right from costume to screenplay, inspired from Thuppaki. Film picks up slowly aftr 1st 30 mins.songs :(
Prashanth posted: Done watching #Kanithan - the strong message will compensate all the logic loop holes. @Atharvaamurali begins 2016 with a sure shot success!
#Kanithan interval - @Atharvaamurali 's best look so far. He joins the big league in style. Perfect hero for long stunts .
#Kanithan interval - takes some time for story to set, once that happens - rocket speed !! BGM equals thuppakki BGM. Perfect so far.