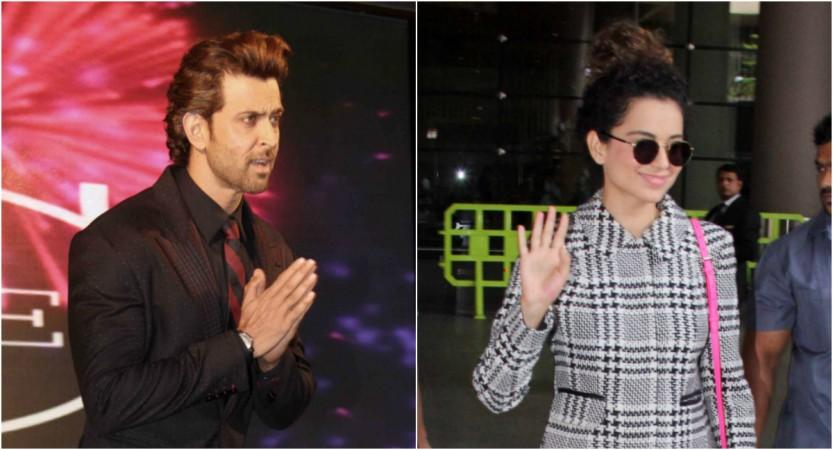 Earlier this year, rumour mills went into overdrive with suggestions that Hrithik Roshan and Kangana Ranaut were an item back when they were filming for Krrish 3. While the actor has mostly kept mum, the Rangoon actress gave subtle hints about their alleged affair up until recently when she chose to speak openly about the kind of person Roshan is.
Speaking to Neha Dhupia on her show #NoFilterNeha on Saavn, Ranaut said that had it not been for his parents, Roshan wouldn't be anywhere close to the superstardom he has achieved today. She presented Roshan with the best "Thank God they have famous parents or they'd be nowhere" award.
A quick recap on the Roshan and Ranaut saga:
It all started with reports of Roshan wanting Ranaut out of Aashiqui 3. While the Kaabil star chose to remain quiet, the latter had a lot to say. "Yes, many lame rumours are doing rounds...I don't know why exes do silly things to get your attention," she told the media, when asked if she was ousted from the third instalment of the successful franchise film.
What escalated the cold war between the two was Roshan's tweet, which read: "There are more chances of me having had an affair with the Pope than any of the (I m sure wonderful) women the media has been naming. Thanks but no thanks." And in a matter of days, intimate details from their personal lives were thrown around on the internet, while they were busy slamming each other with legal suits.
What really blew up the cold war was an exhaustive account of Ranaut's friend to Mumbai Mirror that revealed rare information from the rumoured couple's courtship. It was January 2014 when Roshan went down on his knee with a ring in Paris and had said: "You may think this is coming out of a rebound. But I have no doubts about our future happiness because you are the only person who has never judged me. And I have felt a strong connection with you from Day One."