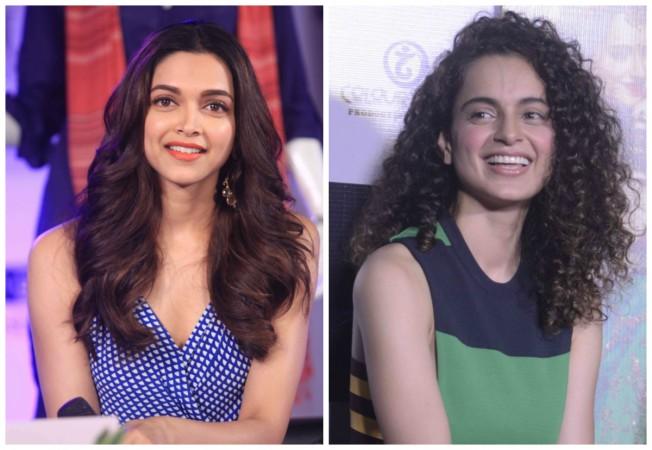 The buzz is that filmmaker Aanand L. Rai is planning to make a film starring Shah Rukh Khan and he is on the hunt for the lead actress.
Kangana Ranaut, who has worked with the director in "Tanu Weds Manu Returns", is rumoured to be going after Rai for the role opposite SRK.
Reportedly, Rai was annoyed with Kangana's tantrums on the "Tanu Weds Manu Returns" sets and thus, he seems not interested in casting the actress.
"Aanand is planning a film with Shah Rukh Khan and is on the hunt for the actress. Deepika and Katrina are on his mind. On hearing that Aanand is planning to cast Dippy in his next, Kangana decided to mend things with the director so that he casts her opposite SRK," DNA quoted a source as saying.
As everyone knows, things are not well between Deepika and Kangana. Deepika gave away the award she won for "Happy New Year" to Kangana as, according to the former "Queen", she deserved the honor.
But Kangana didn't take it in a sporting way and after this incident, the two seemed to have a catfight related to their film releases.
However, it is Rai's call as to who will get the lead actress' role for his film, and it seems it will not be Kangana.
"He (Rai) is not at all convinced that things will be any different if he casts her (Kangana) in the film, and he doesn't want to take a chance though Kangana and SRK will be a new and an interesting pair," the source further added.
It will be interesting to see if Kangana bags the role opposite Shah Rukh as she has always believed that she doesn't need the Khans to be successful.
Currently, Kangana is busy shooting for Vishal Bhardwaj's "Rangoon" alongside Shahid Kapoor and Saif Ali Khan.
On the other hand, it has been reported that Shah Rukh will play the role of a dwarf in this film.
Earlier, there were reports that Salman Khan was the first choice for the lead role of a dwarf in the film, but after he backed off due to time constraints, Shah Rukh replaced Salman for the role.