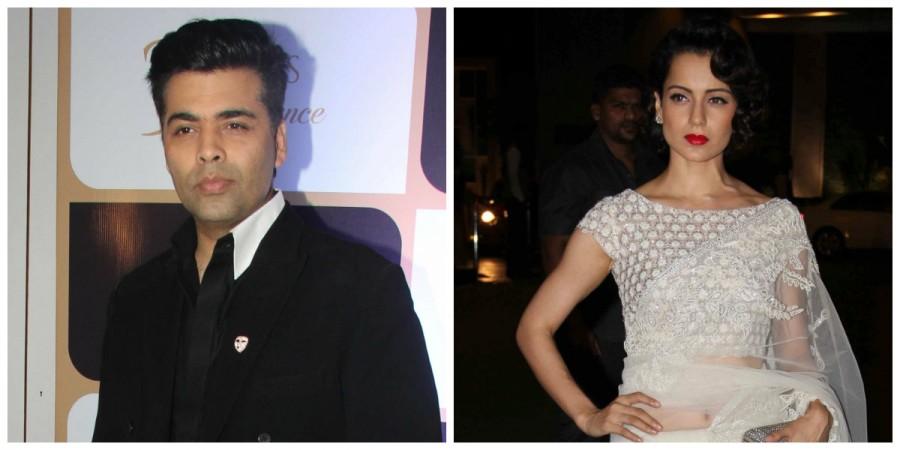 Karan Johar said some mean things about Kangana Ranaut in an interview and it is now breaking the internet. While Karan initially received a thumbs-up for his statement, many came forward to support Kangana.
Also read: Hrithik Roshan is the reason behind Karan Johar's statement against Kangana Ranaut?
Before talking about it, let's take a look at the proper definitions of nepotism and feminism:

Nepotism: The practice among those with power or influence of favouring relatives or friends, especially by giving them jobs

Feminism: is a range of political movements, ideologies, and social movements that share a common goal: to define, establish, and achieve political, economic, personal, and social rights for women. This includes seeking to establish equal opportunities for women in education and employment.
People have taken sides on social media, but one must understand that every coin has two sides.
Karan said that Kangana plays the victim card often and should quit the industry if she can't take it, but there have been a lot of times when the filmmaker, too, has used the same argument in his favour. He even launched an entire book, which is so dramatic that it is no less than a victim card.
On the other hand, Kangana has been cheered for humiliating the show's (Koffee With Karan 5) host on national television.
People (especially who think they are feminists) supported the Rangoon actress' statements of nepotism that she has made with sarcastic undertones.
While Kangana has been lauded for being outspoken, Karan has been slammed for speaking his mind. True, KJo is a living example of practising nepotism in the industry, but he has also promoted good talent. But if he had not launched them, don't you think someone else would have?
For example: Alia Bhatt and Varun Dhawan are star kids launched by Karan in Student of the Year, but he also launched Sidharth Malhotra. He has also launched many filmmakers who are not from Bollywood families such as Shakun Batra and Shashank Khaitan among others.
On the other hand, Kangana's brave and outspoken nature has been highly appreciated. She has made a mark in the industry without any help from B-Town biggies. But she has, of course, played her victim card a lot of times, which doesn't even look like a big deal in the industry. She has spoken her heart out many times, but everyone should have the option to right? Then why is Karan's statement against her kicking up such frenzy?
Many of us may see her as the idol of true feminism, but her method is not the definition of equality. If you want an idol, there are actresses like Kalki Koechlin. Well, neither of them (Karan or Kangana) is right or wrong, so let's be sensible and try to know both the faces of the coin, rather than taking sides and flooding accounts with Facebook and Twitter posts.