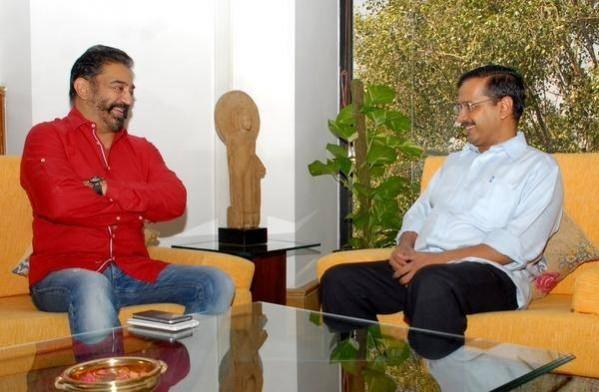 Tamil superstar Kamal Haasan will launch his own political party at a function in Madurai that may witness the presence of chief ministers like Arvind Kejriwal (Delhi), Pinarayi Vijayan (Kerala) and Nitish Kumar (Bihar).
On February 21, Kamal Haasan has called for a rally in Madurai, where he will launch his party, its flag and agenda. The actor confirmed the news in a post on his Twitter page on Tuesday morning. He conveyed his message in Tamil.
Kamal Haasan tweeted: "Our next tour will start tomorrow. I am going to launch our party flag at a grand public meeting at Madurai Oaks ground at 6.00 pm. I explain the name of the new party and the essence of our policy. Welcome to the new age #maiam." [Rought translation.]
நாளை துவங்கவுள்ளது நம் நெடும் பயணம். நாளை மாலை 6 மணிக்கு மதுரை ஒத்தக்கடை மைதானத்தில் ஒரு மாபெரும் பொதுக்கூட்டத்தில் நமது கட்சிக் கொடியை ஏற்றவுள்ளேன். புதிய கட்சியின் பெயரையும் எமது கொள்கையின் சாராம்சத்தையும் விளக்கவுள்ளேன். வருக வருக புது யுகம் படைக்க #maiam

— Kamal Haasan (@ikamalhaasan) February 20, 2018
It is widely known that Kamal Haasan has been meeting political leaders from various parties across the country. He had called on Arvind Kejriwal in September 2017 and the Delhi chief minister had urged the Tamil superstar to join active politics. Tthe actor, who is set to plunge into politics, had gone on to meet several other political leaders including Mamata Banerjee and M Karunanidhi.
Now, the buzz on the social media is that Arvind Kejriwal, Pinarayi Vijayan and Nitish Kumar will attend Kamal Haasan's Madurai rally. Arun Janardhanan, a reporter with the Indian Express tweeted: "Delhi CM @ArvindKejriwal likely to attend the Madurai rally of @ikamalhaasan , Kerala CM Pinarayi Vijayan, Bihar CM Nitish Kumar are other VIP names though their participation is not yet confirmed."
Kamal Haasan recently met superstar Rajinikanth and DMDK chief Vijayakanth and reportedly invited them as well for the launch of his political party in Madurai. The two expressed their happiness over he joining politics and wished him good luck. It remains to be seen whether they attend the event on Wednesday.