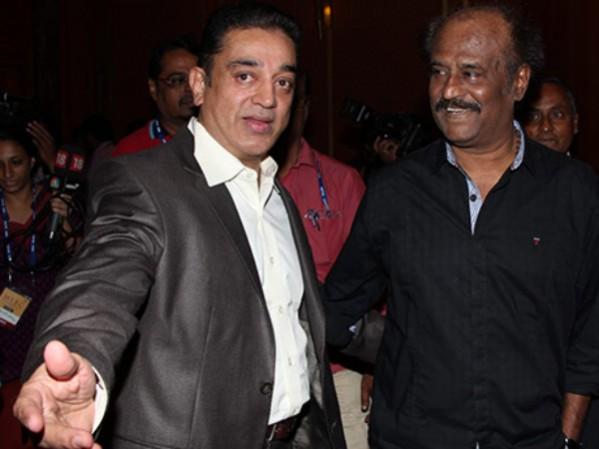 Veteran Tamil actor Kamal Haasan, who recently launched his political party, said he will not make personal attacks on Rajinikanth but would only criticize the policies of his party if there is disagreement.
"I will not take on Rajinikanth as a person, far from it; there are several parties here that personalize their attacks on him. But after Rajinikanth formed a political party and makes known its policies and programmes, if we have any differences on those issues, then our criticism too will be unsparing on issues; our appreciation too would be issue-based and open-hearted," Kamal Haasan said in a television interview.
Prior to the interview, he spoke to the reporters in Coimbatore who asked him about Rajinikanth's silence over Cauvery issue. "He has not spoken about many other issues. So, it is unfair to single out one issue," he said, defending his long-time friend.
Rajinikanth has been often targeted by a section of people in the film industry for his roots in Karnataka. Now, in politics, many feel he was unfit to rule Tamil Nadu as he is not a Tamilian by birth.
Tamil Nadu and Karnataka have been at loggerheads for decades over Cauvery water sharing issue and Rajinikanth often became a soft target for not taking a clear stance on the issue.
Rajinikanth and Kamal Haasan are the two Kollywood icons who have forayed into politics following the death of then Tamil Nadu chief minister J Jayalalithaa. While Kamal floated his own party, Makkal Needhi Maiam, Rajini is yet to open up on his ideology and policies.
Though both the stars can become rivals politically, the mutual respect between them has always remained intact.
It may be recalled that Kamal Haasan had met Rajinikanth before launching his party. In return, the superstar wished him good luck and said, "Kamal wants to serve the people of Tamil Nadu. I will pray to god that he will attain success."