The nation lost one of its daughters when Kalpana Chawla, the first Indian-origin woman in space, lost her life along with six other astronauts on February 1, 2003. The NASA astronauts' space shuttle disintegrated during its re-entry into the atmosphere as the craft burst into flames 16 minutes before it was scheduled to land at Kennedy Space Centre in Florida.
The Space Shuttle Columbia disaster was considered to be one of the darkest days in NASA's history as it left the world appalled and teary-eyed.
Quick facts about the woman destined to reach for the stars
Born on March 17, 1962, in Karnal, Haryana, the story of Kalpana Chawla's rise from a small town in India to becoming the first Indian woman to travel to space, is a testament to her hard work and dedication.
She is the second India-born to travel to space, first being Rakesh Sharma who flew in 1984.
After finishing her under graduation in aeronautical engineering from Punjab Engineering College in 1983, she went to the United States to pursue higher education.
After completing her Masters from the University of Texas in Arlington, she pursued a PhD degree and eventually joined the space agency NASA.
Her career at NASA began in the year 1988 following which, she joined the NASA Astronaut Corps and was selected for her first flight.
For her contributions to the world of astronomy, she was posthumously awarded the Congressional Space Medal of Honor, NASA Distinguished Service Medal, and the NASA Space Flight Medal.
Many streets and universities in India have also been named after Chawla.
Chawla's story inspired millions across the globe with her incredible journey from a small city in Haryana all the way up to the stars.
Chawla was always destined to reach great heights as an astronaut and she was clearly thrilled after she came back from her first mission.
The first view of the Earth is magical. It is a very overpowering realization that the Earth is so small. It affected me. I could not get over the notion that in such a small planet, with such a small ribbon of life, so much goes on. It is as if the whole place is sacred," Chawla once said.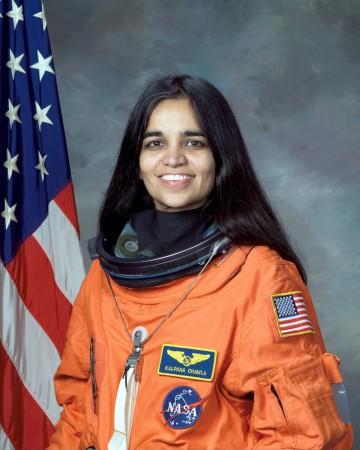 Many Indian political leaders and personalities paid tribute to India's daughter on her 56th birth anniversary. Here are some of them:
Remembering Astronaut Kalpana Chawla on her birth anniversary. Her accomplishments will continue to be an inspirational force for youth, especially young girls across the world. pic.twitter.com/v9cmQTvVED

— Piyush Goyal (@PiyushGoyal) March 17, 2018
Remembering the brave daughter of India, Kalpana Chawla on her birth anniversary.

— N Chandrababu Naidu (@ncbn) March 17, 2018
My tributes to Late #KalpanaChawla, first Indian Woman Astronaut, on her birth anniversary. She continues to be an incredible role-model & inspiration as she showed the world that nothing is impossible for women if they have strong will.@NASA pic.twitter.com/xoQ4oqBuHE

— Prakash Javadekar (@PrakashJavdekar) March 17, 2018