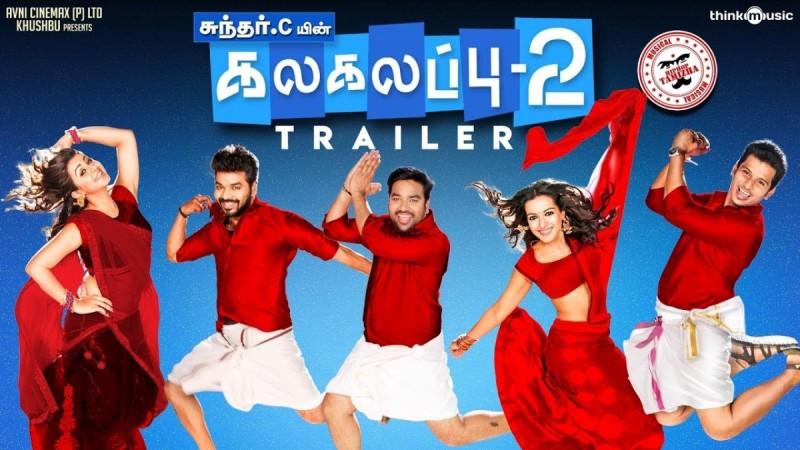 Sundar C is back with his latest outing Kalakalappu 2. It is a multi-starrer film that also has Jiiva, Jai, Shiva, Nikki Galrani, Catherine Tresa and Nandita Swetha in the lead. The supporting cast involves a long list of talented artists like Radha Ravi, Madhusudhan Rao, Robo Shankar, Rajendran, Manobala and Singamuthu.
The movie, which is a sequel to the 2012 hit film Kalakalappu, has music by Hiphop Tamizha. His two songs -- Oru Kuchi Oru Kulfi and Pudichirikka Illa Pudikalayaa -- have struck a chord with listeners. It has NB Srikanth's editing and UK Senthil Kumar's cinematography.
In Pics: Kalakalappu 2 Movie stills | Press meet | Sollividava Movie Review | Savarakathi movie review
The I-T department conducts a raid on a politician's house, but he escapes from the consequence by passing on the laptop containing details about his ill-gotten wealth to his auditor. Using this an opportunity to make some money, the auditor now demands money from the politician.
A frustrated youngster (Jai) comes to Kasi after realising that he has an ancestral property worth Rs 10 crore to reclaim it in which Seenu (Jiiva) is staying. What happens after he lands in his place is the best part of the film.
Average Ratings Given by Audience: 3
Reviews:
Kalakalappu 2 has garnered fairly positive reviews. Although the movie is not as good as the first instalment, Sundar C's screenplay manages to entertain the viewers, netizens say. The Karikaudi episode has been whole-heartedly praised by cine goers, who are not really happy with the length of the flick. The double-meaning jokes might not appeal all section of the audience, opine a section of cine-goers.
Check out their response to the film here:
Sreedhar Pillai
#Kalakalappu2 3/5. Jolly fun ride with an array of stars and an army of comedians. @Actorjiiva, @Actor_Jai @nikkigalrani @CatherineTresa1, equal screen space but @actorshiva who comes in at the interval block steals the show. #SundarC provides enough laughs
Anand Suman
#Kalakalappu2: Complete stress buster. #SundarC once again proves he's the king of comic commercial entertainers, he maintains the tempo full time with excellent timing and constant laughter. Sure shot this! @hiphoptamizha bro Jolly ah music la play panirukaru.
Rajasekar
#Kalakalappu2 - Just like the first part, the climax stretch is a laugh riot. Santhanam's absence is felt but Sundar C's solid climax episode brings the roof down, an enjoyable fun ride.
#Kalakalappu2 first half - colorful and provides adequate entertainment so far. The Kasi backdrop gives the vibrant feel....
Sree Nandhu:
#Kalakalappu2 Stress buster week end for everyone..! Pakka treat to J Fans, no doubts J n the way of his humours acting, Enjoyed like anything Nice move from #SundarC sir & to the ppls whoes keep on bugging J to gv hear it is @Actorjiiva
Ajay V
#Kalakalappu2 - Even though the lead hero pair of Jiiva and Jai hold the show throughout, it is @actorshiva and the promising young comedians along with the Villain gang saves the day for the audience. Length is an issue though. Watch it for ENTERTAINMENT!
#Kalakalappu2 - After what looked like a complete disappointment at Interval, ended up satisfactorily thanks to Sundar and his team's humour quotient. He is one of the best in pulling off some really lengthy comedy sequences. Logic less and mindless but enjoyable sequences.
#Kalakalappu2 - @actorshiva turns the tables in the second half that makes us overlook the negatives in earlier half. @iYogiBabu, @iamrobosankar, Munishkanth and co make the audience burst in laughter in certain scenes. Watchable - Above Average(2.75/5)
Review Ram
#Kalakalappu2 (Tamil) - Interval - Comedy works in parts with situation and double meaning humor. Script is convincing, nice to see whole lot of talented artists with peppy BGM. (1/2)
@khushsundar @Actorjiiva @Actor_Jai @actorshiva @hiphoptamizha @nikkigalrani #SundarC
#Kalakalappu2 (Tamil) - Interval - On the other side, no logic, too slow with songs as speedbreakers and some boring cinematic moments are also present. Break point (Shiva's intro) is enjoyable, so awaiting for the 2nd half. 'Okay' so far. (2/2)
@khushsundar #SundarC
Ronald Tamizhan
#Kalakalappu2 #FDFS
A complete laugh riot from #SundarC
Fully laughed from start to end of the film
Lots of Comedy stars and used them perfectly
Little lengthier
@hiphoptamizha musical fantastic
@Actorjiiva @CatherineTresa1 @nikkigalrani @Actor_Jai @khushsundar
My Rating: 7/10
Heytamilcinema
#Kalakalappu2 - INTERVAL - Jiiva and Jai plays the regular Sundar. C heroes supported a huge bunch of comedians. Humour didn't work out as much as expected so far. Needless three songs, only for glam scene heroines & double meaning dialogues hamper the flow till now.
#HTCReview
#Kalakalappu2 - INTERVAL - Living in the shadow of the 1st part following similar pattern. After a very slow start, things have picked little pace close to the end. @actorshiva entry in the interval has raised interest in an otherwise less impressive first half. #HTCReview
Sidhu
#Kalakalappu2: Complete stress buster. Sundar C once again proves he's the king of comic commercial entertainers, he maintains the tempo full time with excellent timing and constant laughter. Sure shot this!
#Kalakalappu2 Interval: Lots of laughs, theatre in splits for most parts. Minimum guarantee Sundar C film, he has complete control of his huge ensemble cast. Enjoyable!
#Kalakalappu2: Jiiva and Jai piggyback on a plethora of comedians led by @iYogiBabu, @actorsathish, @iamrobosankar and more. But the show-stealer is Shiva, who despite coming in only halfway, rocks the party.
Arif
#Kalakalappu2 . Completed!!! Fun ride!!! If you like sundar. C template ..it won't disappoint you. Second half stands high with yogibabu and siva one liner. Loved it. Book the tickets with your family and enjoy it. Stress relief movie. Will work all centres.
#Kalakalappu2 . Interval!! Sundar.C typical template. Laugh riot. Comedy works big time. Movie is going like festival with bunch of comedy actors. As usual No logics!! But entire audience are laughing!! Waiting for siva atrocities...sure shot as of now!!
Shanmuga Sundaram
#kalakalappu2 @CatherineTresa1 @nikkigalrani @Actorjiiva As expected disaster 2nd part. Instead of concentrating more on glamour could have worked better on screenplay & Story .Sundar.C reputation as a director been destroyed by double meaning dialogues n whole movie.
Christopher Kanagaraj
#Kalakalappu2 - Adichu thuvacha storyline; Among d huge star cast, ultimate show stealer is Shiva, though he appears post interval his portions r gud. Nikki & Cath for glamour quotient, works in favour of d film. 1st half is plain drama, 2nd half comedy brings laugh. 1 tym watch.