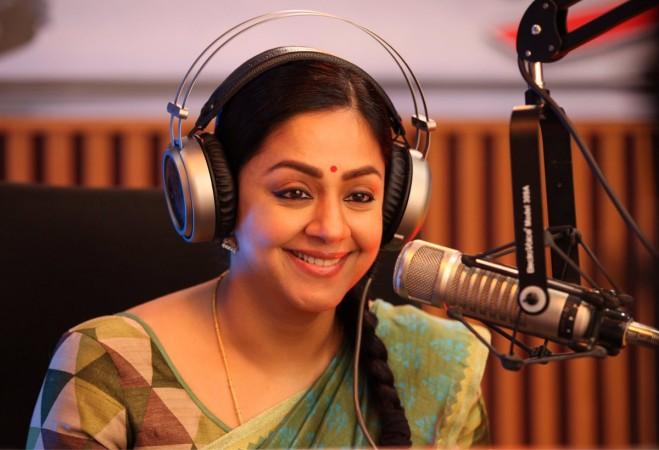 After making her comeback with 36 Vayadhinile in 2015, Jyothika has been working on movies one after the other. Her latest project is Kaatrin Mozhi, directed by Radha Mohan. The movie has Vidharth, Lakshmi Manchu, MS Bhaskar, Manobala, Narayan Lucky and others in the cast.
AH Kaashif has composed the music and a few songs like Kelambitale Vijayalakshmi and Dirty Pondatti have struck the chord with the viewers. Mahesh Muthuswami has handled the cinematography, while Praveen KL has edited the flick, which is a remake of Vidya Balan's hit movie Tumhari Sulu.
Story:
Vijayalakshmi aka Viji (Jyothika) is a middle-class woman who does not have much to boast about her formal education. She struggles to make an identity as she is looked down by her family members for taking part in lucky draws and TV contests. Nonetheless, her hubby (Vidharth) and son stand by her and encourage to take part in such activities.
Viji later wins a prize from a radio channel. But in an unexpected turn of events, she lands a job of an RJ for a late night show. She becomes popular overnight as her voice wins millions of hearts, but it makes her family very uncomfortable. What follows next should be seen on-screen.
Reviews:
The movie is releasing on Friday, November 15, while it will have its premieres in some foreign countries a day before. It has already been screened for the press. Here, we bring you the tweets from those who have already watched the flick:
Sidhu: #KaatrinMozhi: Beautiful. #Jyotika brings in one of her career-best performances in a film that will definitely put a smile on your face. Lively, emotional feel-good drama.
Haricharan Pudipeddi: Really enjoyed #KaatrinMozhi, a breezy, heartwarming family-friendly drama about dreams and carving one's identity featuring #Jyotika in one of her most memorable performances. Should work big time with women and family audiences. @LakshmiManchu is fabulous in a lovely role.
Ramesh Bala: #KaatrinMozhi [3.5/5]: A Fun and Breezy Entertainer with a subtle message..
#Jyotika is the backbone of the movie.. Delivers one of the best performances of her career.. She is treat to watch..
#Vidaarth also has done well..
@LakshmiManchu is in a good supporting role..
Bharathnt: Pursue what you are passionate about. This has been conveyed well by #RadhaMohan. And #Jyothika on screen is like @imVkohli with the bat. A solid show by her. Entertaining & engaging. Watch out for a cute cameo by #STR. Congrats @Dhananjayang #KaatrinMozhi
Rajasekar: #KaatrinMozhi - 3.25 /5, Pon. Parthiepan 's writing is a big plus, enjoyed his witty one liners. Scenes featuring MS Baskar is a major highlight and almost all the FM episodes are superbly written. Well done Radha Mohan and team
sridevi sreedhar: #KaatrinMozhi: Funny, emotional & clever all rolled into one. Such a joy 2 watch #Jyotika who is dependably feisty yet achingly vulnerable, breathing life into the conflicted Vijayalakshmi aka Viji aka Madhu.
Lucky to have watched #KaatrinMozhi sitting next to #Jo & #RadhaMohan
Sreedhar Pillai: #KaatrinMozhi is a soothing feel good film laced with right dosage of humour in #Radhamohan style. I would rate it as #Jyotika's best ever performance after her comeback. She is life and soul of this faithful remake of Tumhari Sulu. #vidharth does a neat job. Enjoyable fun ride.