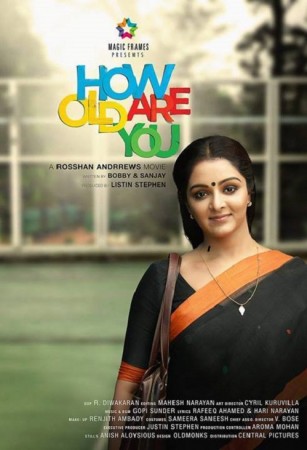 Here is some exciting news for Jyothika fans.
Actress Jyothika is all set to make her comeback in Kollywood films. The actress will be starring in the Tamil remake of Malayalam film "How Old Are You".
"How Old Are You" revolves around the life of a woman, who faces a personal crisis and how she transforms herself and regains her real identity. It is an emotional drama that deals with women empowerment.
The film was directed by Rosshan Andrrews and he will be helming the Tamil remake as well. Andrrews confirmed that Jyothika will be doing the lead role in the women-centric film. Details about the film's cast and crew are yet to be revealed.
"HOW OLD ARE YOU in Tamil - !!!!!!!!!!!!!. Yes it is confirmed. Jyothika will be doing manju's role in Tamil. More details coming soon," Andrrews posted on his official Facebook page.
For the last few months, there were speculations that the "Mozhi" actress will be making her re-entry in the Tamil film industry with director Pandiraj's film. However, there was no official announcement regarding her comeback.
Jyothika, who began her film career in 1998, has starred in several Tamil films and a few Telugu, Malayalam, Hindi and Kannada films. Some of her notable films are "Kaakha Kaakha", "Vettaiyaadu Vilaiyaadu", "Chandramukhi" and "Mozhi."
The actress tied the knot to popular Tamil film star Suriya in 2006 and took a break from her glamorous career. Her last Tamil film was released in 2007 and the actress is returning to the industry nearly after seven years. It will be a real treat for her fans who have been eagerly waiting to see their favourite star on the silver screen.
"How Old Are You" marked the return of popular actress Manju Warrier nearly after 14 years. It received positive reviews from critics and thumbs up from the audience. The film performed well at the box office and has been declared a hit. Jyothika will be reprising Manju's role in the Tamil version. It will be interesting to see whether the Tamil remake will be able to repeat the success of "How Old Are You."