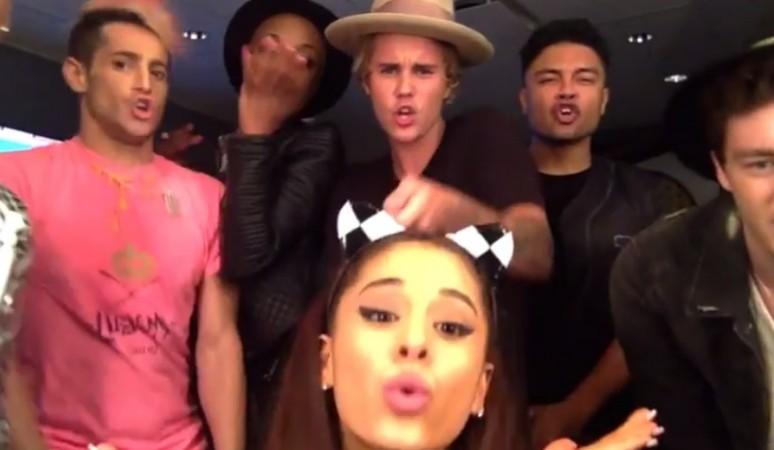 In a fun and pumped-up video broadcast on pop sensation Justin Bieber's official Youtube channel, he is seen lip-synching to Carly Ray Jepsen's new song, "I Really Like You". The video also features Ariana Grande, her brother Frankie J Grande, South Korean singer-rapper CL, Rixton, Lance Bass, and Kendall Jenner.
The adorable stars are seen dancing to the tunes of Jepsen's catchy new single, while having a great time. The locations change from a luxurious swimming pool to the backstage of a concert, but the energy and fun among friends remain the same. From reality star Kendall Jenner to fellow singing sensation Ariana Grande, Bieber lined up an excellent group of celebrity friends.
The friendly video will also possibly put the rumours of Bieber's romance with Grande to rest, clearly those two just seem to "really, really, really like" each other as friends should. Kendall Jenner, who was cheering him on from among the audience during his roast on Comedy Central, was also present in the video.
CL, a member South Korean girl group 2NE1, is singed under Scooter Braun who also manages Bieber, Jepsen and Grande. That is probably why CL was seen casually chilling in the video in an oversized blue coat.
Bieber wrote in the video's description: "decided to make a fun cover with a bunch of friends of Carly's new song I Really Like You. love this song. everyone make their own...thanks to: Ariana Grande, Kendall Jenner, Rixton, CL, Lance Bass, David Foster, Frankie Grande, Matthew Espinosa, Bryshere Gray, Kimberly Nichole, Jeremy Scott, Ryan Butler and Alfredo Flores"
Check out the awesome video starring the who's who of entertainment, lip-synching to Carly Ray Jepsen's "I Really Like You":