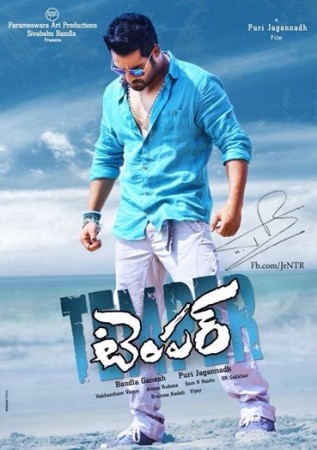 Actor Junior NTR has released a new poster of his upcoming movie "Temper", which looks rather stylish. His fans could not stop going gaga over his photo, which has gone viral in the social media.
Junior NTR took to his Facebook page on 5 December and unleashed the new poster of "Temper", which is directed by Puri Jagannath. The actor is seen sporting a sky blue cotton shirt, white cargo pants and aviator sunglasses. This shot is taken from the Goa beach, where he is currently shooting for the film. This photo shows him in a never-seen-before get-up.
The post of young tiger Junior NTR, who has 1,355,552 fans on Facebook, has been liked by nearly 30,000 people, while around 2000 fans shared it on their pages. More than 1,000 people have commented on his post and all of them have given a positive response for the photo.
Here are some unique comments on Junior NTR's new poster of "Temper":
Venky Kee
Thz is wt those 3 words capable of N-New T-Tiger R-Returns... Thanks fr d hard work Dear Brother. always ur's Die Hard Fan Venky Kee...
Balu Pogartha
I am megha family fan.. but i like temper movie stills look so nice and good body build ..
Madhu Sudhan Chowdary
I am not only ur fan, i am ur devotee. u r back with ultra style my bro
Sahithi Chowdary
Wow looking so stylish!love u Tarak!
Msaila Vijaybhaskar
Look excellent anna bumper hit kavalani my korukuntundhi
Lovely Uday
Sooo handsome anna ,,,tollywood box office lu e sare blast
Mahendra Reddy
Woooow excellent Bro ... U rock with new look... waited from long time for new looks
Madhu Krish
Super stylish tarak..... its time he will create wonders with temper movie ..........
Sree Ganesh
Arey boss em style boss ur luking very awsome.
Vijay Kumar
Creativity of puri...... style of ntr...... rocking look..... we r waiting ......