Jomonte Suvisheshangal has nothing new to offer, but it will entertain you from starting till end, thanks to the remarkable chemistry of Mukesh and Dulquer Salmaan, who have portrayed the role of father - son duo with ease.
Also read: Audience review || Reasons to watch Dulquer movie
Plot
Vincent is a successful Thrissur-based businessman, also a loving father to two sons (Vinu Mohan and Dulquer), two daughters (Muthumani and Rasna Pavithran), and their spouses and kids. The first half of the movie goes through their happy and lavish life filled with many moments of laughter as well as Vincent's attempts in achieving more heights. However, the happy story takes a U turn when the prodigal son (spoilt brat) transforms to a new person. But why? Watch it for yourself.
Read Jacobinte Swargarajyam review
Does the storyline sound familiar? Yes ! it has a similar theme like Nivin Pauly's blockbuster Jacobinte Swargarajyam based on the real-life incidents of an NRI family settled in Dubai. Is it a typical Sathyan Anthikad movie? Yes ! it has family, romance, sentiments, struggles and also deals with father-son relationship as we have seen in his previous movies Veendum Chila Veettukaryangal, Kochu Kochu Santhoshangal, Manasinakkare.
Then, what's the point in watching Jomonte Suvisheshangal in theatre? What makes this Sathyan Anthikad movie special is the way Mukesh and Dulquer have carried it on their shoulders, though it was not challenging roles for them. The movie also handles some topics lightly -- corruption and how easy it is for established businessmen to disobey the rules.
Regarding the performances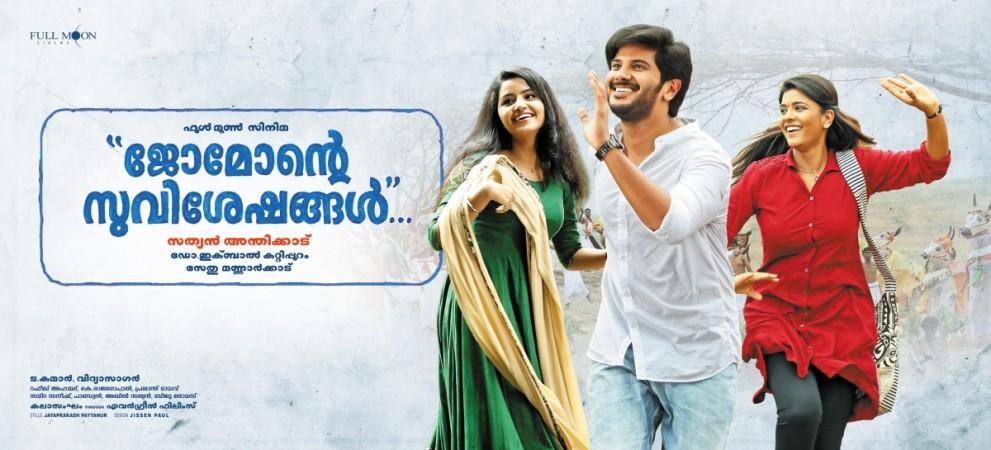 With each movies, Muthumani proves that she is one of the natural actors in Malayalam. Former Miss Kerala Indu Thambi, who plays as Jomon's sister-in-law in the movie, has done her part well and is sure to impress the audience. While Shivaji Guruvayoor nails his role as the close friend of Vincent, Innocent has done a familiar character we have seen many times before. Aishwarya Rajesh as Vydehi gets good screen presence in the second half of the movie, but natural acting seems to be missing a little bit for the Kaaka Muttai actress.
After Mary in Premam, looks like Anupama Parameshwaran is bagging similar roles in her other films as well. Her character, Catherine, who belongs to a well-to-do family, does a cameo appearance in the movie, as she appears in less than four scenes apart from being featured in the hit song Nokki Nokki. Even Rasna Pavitran, who had played as Prithviraj Sukumaran's sister in Oozham, now becomes the sister of Dulquer's character. Meanwhile, Manobala, Jacob Gregory, Vinu Mohan and Irshad has done justice to their roles.
Behind the scenes
Jomonte Suvisheshangal has three songs -- Nokki Nokki, Poonkattey and Neelakasham, composed by Vidyasagar. The songs are impressive and have synced well with the situations in the movie. S Kumar's cinematography needs a special mention for capturing the beautiful visuals, especially for the songs. Costumes by Sameera Saneesh get a thumbs up.
Areas that need improvement
As said earlier, Iqbal Kuttippuram's story is not fresh for the audience, who are ardent fans of Malayalam movies. The storyline looks weak as we have seen Vineeth Sreenivasan's Jacobinte Swargarajyam few months ago. Thus, the writer could have made few changes to the script for the audience, who expect something different from each movie. Though there are many weak points in the storyline (cannot comment about them as it will reveal the story), Jomonte Suvisheshangal will surely impress the other language audience, for whom the entire plot would look different and touching if they haven't watched the Nivin-starrer.
Being a story narrated in the backdrop of Thrissur, wonder why only Irshad was speaking in Thrissur slang. If all the actors had tried to speak in that way, it could have become more convincing and entertaining. Even though Anupama dubs by herself in Telugu, wonder why she has not dubbed her portions in this movie.
Also, the movie was not screened with English subtitles at INOX Lido Mall in Bengaluru though the makers had announced that the Dulquer-starrer has English subtitles.
Final take
In short, Jomonte Suviseshangal is a typical Sathyan Anthikad movie, old wine served in new bottle with a familiar and predictable storyline. Nevertheless, it is a feel-good entertainer that is well handled by Dulquer and Mukesh, and teaches us that one cannot taste success throughout as one will have to face ups and downs in life.