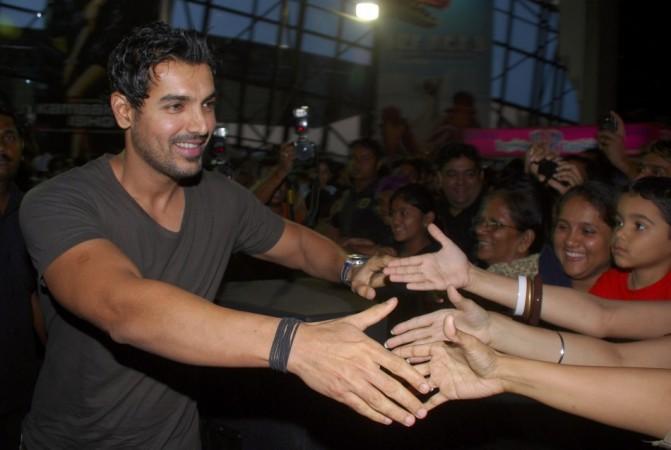 Bollywood actor John Abraham is firm on the release of his upcoming film "Madras Cafe", even as various pro-Tamil outfits demand a ban on the film alleging that it portrayed the outlawed Lankan rebel group LTTE in poor light.
The crime thriller which is set against the backdrop of the 80s and early 90s is based on the political and military histories of India and Sri Lanka. John, who is the film's producer, plays the role of a RAW agent through whose eyes the plot of the film is brought to the audience.
The film got into a controversy after MDMK leader Vaiko and Seeman, founder of 'Naaam Thamizhar Katchi' claimed that the film poorly portrayed the LTTE.
Taking a firm yet polite stand John said he respects their perspective. But as the censor board has given a clean chit to the film, he will definitly release it.
"I respect everybody's opinion. I respect Mr Vaiko's point of view and Mr Seeman's perspective. But it is very important that they also respect our opinion. This is a democracy. If the Censor Board has no objection with the film's content and has given us an U/A certificate, then I don't think there is anything wrong with the film. They are most welcome to go and raise their objections. And in our part, we will definitely take the film to the audience," John was quoted as saying by Press Trust of India.
Directed by "Vicky Donor" fame Soorjit Sircar, "Madras Cafe" is set to hit screens on 23 August.
Backing the film Soorjit said, "As a director, I can only make a film and show it. Like a political party, we cannot just begin any protest against what is being done to us. Freedom of speech is important in a democracy. None is above Censor Board and they don't have a right to ban any film unless the President or Supreme Court has passed any orders."
"Whatever is happening in Tamil Nadu is wrong. I request them not to speculate much about the film. Let the people watch it and then decide. They can't force people not to watch the film. It is against the law," he added.
"Madras Cafe" also stars "Rockstar" fame Nargis Fakhri, who plays the role of a journalist.