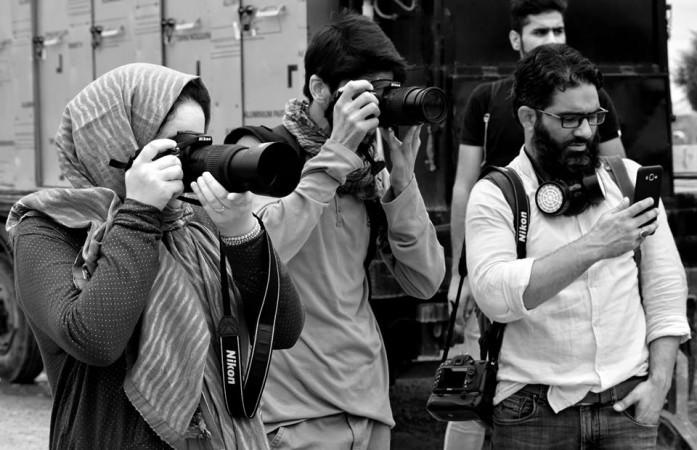 Jammu and Kashmir Women's Commission Chairperson and a former journalist, Nayeema Ahmad Mahjoor, has come out in support of Kashmir's women photojournalists who recently faced alleged intimidation at the hands of their male colleagues.
Mehjoor in an exclusive interview with International Business Times India said that although she stands in solidarity with the Valley's women journalists over alleged harassment and discrimination from their male counterparts, their outcry should not be restricted to online activism.
"There is no doubt that patriarchy is deep rooted in our society, media field is no exception. I would like these female photojournalists to approach me and the commission and promise that any proven case of intimidation or discrimination would be dealt with," Mehjoor said.
Mehjoor, a former journalist, accepted that the media profession in Kashmir is male dominant and that she herself faced discrimination during her stint as a journalist in the valley.
"To add to the dilemma, the conflict situation in Kashmir compounds the problems for women journalists here. But I am of the strong opinion that we have to take the necessary steps to combat the deep-rooted misogyny in our system," Mehjoor told IBT India.
Mehjoor spoke in the backdrop of a local young woman photojournalist, Masrat Zahra, facing alleged verbal abuse from her male colleague during an event in Srinagar.
Zahra was earlier labeled as a Mukhbir (informer) by the online trolls when her picture shooting an encounter sight in South Kashmir was leaked on social media.
She posted on Facebook, "ARE WE WOMEN PHOTOJOURNALISTS MADE FOR ABUSE? Respected colleagues/freelance photojournalists/Senior's.
After a few weeks of break post the accusations against me based on pure hatred and misogyny, I resumed my professional work of a photojournalist today. I went to cover the sit-in protest of Association of parents of disappeared persons (JKCCS), where I was physically and verbally abused by a senior photojournalist. The incident happened when I was engrossed in my assignment and suddenly the person in question pushed me and shouted, "throw her out of here. What is she doing here?."
She further said, "We claim to be a liberal, ethical, and religious society but incidents like these force me to question the work environment that I have fought to be a part of. I am absolutely sure that they feel threatened, and that is why have resorted to abuse and violence against budding journalists, especially women in our field. The whole incident has been disheartening and has discouraged me to the core
Although a few male colleagues asked her to understand the nuances of working in a troubled region like Kashmir and not invoke gender discrimination over the issue, the accused male photojournalist alleged that Masrat is simply trying to garner publicity.
Ironically, the accused male photojournalist is working for an organization which is headed by a woman editor.
Anuradha Bhasin, the editor of the newspaper, apologized to Masrat and accepted that women journalists in the valley are subjected to misogyny and their voices are not heard by male colleagues.
In a reply to Masrat's Facebook post, Bhasin said, "When I started work, I was doing a combination of both reporting and photography for a while. I particularly recall a bomb blast site I was covering and had to get on top of a vehicle to get a long shot of the spot. The crowds gathered there started hooting and jeering. Surely, male photographers can stand on their heads and not be questioned. If this is not misogyny, what is it? The issue is not only about being pushed around but also of the arrogance of belittling her as a "non-journalist" when they should have spoken up for her, not dug holes by calling her "unprofessional" or "publicity-hungry" by the previous mud-slinging campaign against her on social media.
I am sorry, you had to go through a terrible experience. If the harassment has come from any of my staffers, I apologise, taking the entire moral responsibility."
Recently, she was abused and trolled online when a photograph of her shooting encounter scenes between security men and militants in South Kashmir's Shopian district went viral and she was labeled as a mukhbir (informer) by the trolls.
Masrat had even approached the Kashmir Photographers Association who refused to help her on the pretext that she is not a regular photojournalist but a freelancer.
However, an editor of a leading local daily, Shujat Bukhari posted a solidarity message for Masrat even when she was bullied by her fellow photojournalists.
"Some of the friends on Facebook (they proved to be FB friends only) who are showing concern over the ordeal our young photojournalist Masrat Zahra is going through must realise that they are also responsible for promoting this kind of 'futwa baazi' by these unscrupulous elements. Some of them hide behind fake accounts but will be exposed one day and face Allah's wrath. Please don't shed tears now. One can see how you have been promoting such morons. But I stand with Masrat Zehra and strongly condemn the malicious campaign on social media," he said, describing her as a "genuine journalist," Bukhari posted on Facebook.