California's Huntington Beach was found to be invaded by jelly-like alien creatures on November 28, 2016. These mysterious beings were unidentified and caused a stir on the social media.
These unknown little creatures were pink in colour and were found to be burrowed in the sand. They left everyone baffled and increased their curiosity.
"They've made an appearance on our beaches before," city Marine Safety Lt. Eric Dieterman said, as quoted by latimes.com.
"Not in this number, but I have seen them," Dieterman said further.
A witness named Ryan Rustan had seen these unknown creatures on Monday night, while he was walking along the shoreline.
He posted on a Huntington Beach Community Forum group on Facebook stating: "Little water balloons popping under my feet, super squishy. Couldn't tell if they were jellyfish or eggs but there are thousands up and down the beach."
He even revealed that he had seen these strange creatures all over the beach and he had never seen anything like this on the sea shore over the decades, as per a KTLA report.
The post about these strange creatures on the beach fetched many comments; some guessed these creatures were jellyfish, sea salps or burrowing sea cucumbers. Some even called them alien embryos!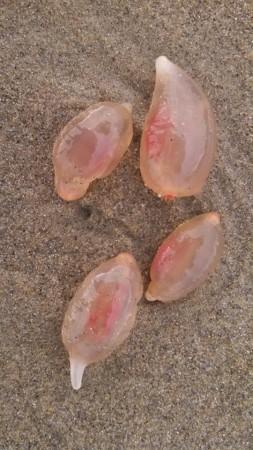 A person named Dan Coursey picked up one of these pink creatures and told KTLA: "It feels like Jello. If you were a little kid, you'd love to have something like this so you can drop down your sister's shirt."
According to a latimes.com report, these creatures move by pumping water through their bodies and they eat microscopic marine plants called phytoplankton. The report even informed that these jelly-like creatures are commonly found in temperate, equatorial as well as cold waters.
These creatures were finally classified as sea cucumbers by an invertebrate expert, Christopher G. Lowe told KTLA.
Lowe is a marine biology professor at Cal State Long Beach, who is a director of the university's shark lab.