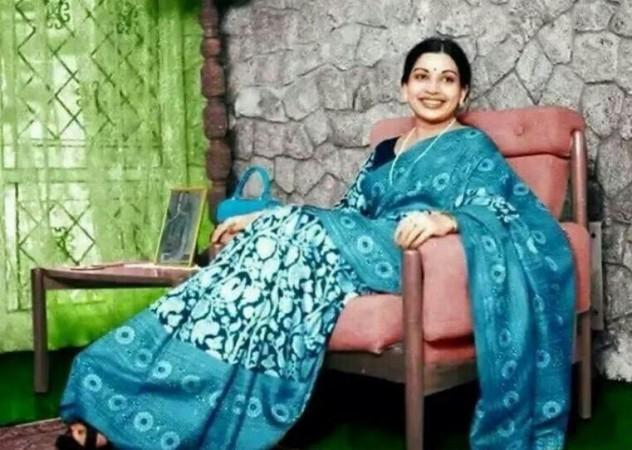 The death of Tamil Nadu Chief Minister Jayalalitha (Jayalalithaa) has shocked and saddened Jr Mahesh Babu, NTR, Mohan Babu, Samantha, Rakul Preet Singh, Trisha and many other Telugu celebs, who took to Twitter to pay tributes.
Photos: Suriya | Modi | Vijay pay last respect to CM Jayalalithaa
Junior NTR: #Ripamma Great era comes to an end.But her majestic charisma and determination will continue to live and inspire many women in our country
Mahesh Babu: Deeply saddened at the loss of J Jayalalithaa garu. May her family and the whole of Tamil Nadu find strength at this time..
Nagarjuna Akkineni: I remember my father speaking with great respect and fondness whenever he spoke of Jayalalitha Ji/May her Soul rest in peace
Mohan Babu M: And the curtains come down to the journey of one of the most charismatic and humble humans being #jayalalithaa Garu. Symbol of woman power. Had the honor of meeting her first when I was starting my career & many times after that.An amazing actor & an example for women &men alike Praying alongside my Tamil brothers and sisters. No words can express this loss. May her soul Rest In Peace.
Allari Naresh: A journey that's an inspiration to all. An iron lady for the people of TN, you will be missed. RIP. #RipAmma
Siddharth: It is the end of an era! Arguably the most unparalleled daughter of Tamil Nadu... #RIP #PuratchiThalaivi Honbl. Chief Minister #Jayalalithaa
Kalyanram Nandamuri: #RIPAmma Jayalalitha garu was one of the strongest leaders of our times.It truly is the end of an era.She will remain an inspiration to many
Sunil: Very sad to hear about the passing of CM Jayalalitha Garu . May her soul rest in peace!!! #RipAmma
Kichcha Sudeepa: An epitome of Dignity,courage,vision n power..Seldom r such legends born.. RIP Honbl CM Dr.Jayalalitha mam.
Rahul Ravindran: Lest we forget her film career.. she was on the forefront of the first generation of female superstars. Path-maker in whatever she did. RIP As she often said so herself.. she was forced into two very high profile careers.. and how she left a mark on both!
Vishnu Manchu: A legendary actress, dynamic leader and a great human being, whose spirit will always remain in our hearts. #RIPAmma #Salute2Service
Varun Tej: Saddened to hear about the demise of the most inspirational woman #Jayalalithaa amma.. May your heart and soul find peace.
Sushanth A: RIP JayAMMA.. Queen of Cinema, Politics,... Life! What a strong lady and charismatic leader! She will live on in the hearts of millions
Actor Aadi: #Ripamma what a great leader end of a Iconic era .
Samantha Ruth Prabhu: Your life has been a series of fighting and winning.U gave us the will to fight and the hope that we can win. U will never die #AmmaForever
Tamannaah Bhatia: We've lost an inspiring woman who's been a true fighter in every sense. She'll always be remembered. May her soul rest in peace. #RipAmma
Rakul Preet Ringh: A woman of substance in real sense. You will be remembered forever. #legend #RIPJayalalitha ji #Amma
Shruti Haasan: TN loses one of its greatest leaders and bravest women- deeply saddened by this great loss - words cannot express
Dr Jayasudha: Rip my dearest super woman Jayalalitha Garu. You'll always be with us through your inspiration. Nandri.
Trisha Krishnan: Rip my most favourite personD throne awaits U on d other side.Truly proud 2 hav studied in d same alumini n honoured 2 hav met u.#myAMMA❤️
Anjali: Hard 2 believe , Amma is no more the real leader, u nvr can b forgotten, always in our thoughts #IronLady #Ripamma
Hamsa Nandini: My condolences and respect to the CM of TN. A true example of strength of a women . #jayalalithaa #Ripamma
Surabhi: Deeply saddened to hear the loss of our loving Amma..A true leader..who will remain an inspiration to us all. #RIPJayalalitha #AmmaForever
Koratala Siva: Always wondered abt her polity,courage and leadership. A charismatic, true larger than life persona.J.jayalalitha.May her soul rest in peace
Krish Jagarlamudi:Saddened by the demise of an iconic figure of Indian politics n womanhood #Jayalalithaa
Gunasekhar: Salute to #TheWarriorQueen Madam honourable CM #jayalalithaa #IronLady may your soul Rest In Peace.
Anil Ravipudi: #Ripamma ..great actress...great leader...great ERA....
Gopi Mohan: Amma will forever be alive for the kind of work she did to the poor.Huge void in Tamil Politics.A Versatile Actress.A True Leader.#RIPamma
Kona Venkat: "Amma" is no more.. Strongest lady of our country.. No one can match her guts or glory great loss to poor and needy .. We miss u Amma...
SS Thaman: Honourable CM is no More My deepest Condolences dr. #jayalalithaa #ironladyoftn U will be in our hearts Fr ever An very emotional night #Rip