With less than a week before Rajasthan goes to polls on November 25, the bipolar contest between Congress and BJP gets tough, unpredictable and intricate.
On Tuesday, the ruling Congress government, led by Chief Minister Ashok Gehlot, released its manifesto banking heavily on freebies and a caste survey. Gehlot promised a caste survey if the Congress returned to power and also promised a new scheme for recruitment at the panchayat level, apart from other welfare schemes in the manifesto. "We got suggestions from people on the basis of which a manifesto has been formed. We fulfilled 96% of our promises," said Gehlot at the release. He added, "In North India, Rajasthan is number one in the rate of economic development. The economy in Rajasthan will be Rs 15 lakh by the year-end with a target to hit Rs 30 lakh crore by 2030."
The current Congress-led government has been in power since 2018 and hopes to buck the strong trend of incumbent governments being voted out of power. According to the poll statistics, out of the 11 elections held in the state in the last five decades, the incumbent government has come back to power only twice.

President Mallikarjun Kharge and former Deputy CM Sachin Pilot were also present at the manifesto release event in Jaipur. The manifesto titled Jan Ghoshna Patra, announces several other guarantees, like an annual honorarium of Rs 10,000 to the women head of families, LPG cylinders at Rs 500, purchase of dung from cattle rearers at Rs 2 per kg, a health insurance scheme to be made from Rs 25 to Rs 50 lakh, apart from free laptops for students taking admission to government colleges. Congress has also promised Rs 2 lakh interest-free loan to farmers and MSP as per Swaminathan commission report, reported the PTI.
BJP leaves no stone unturned
In its first list of 41 candidates, BJP included 7 MPs signifying the significance of Rajasthan Assembly polls for the party. Among the names being fielded include Rajyavardhan Rathore, Divya Kumari, Jhunjhunu MP Narendra Kumar, Baba Balaknath, Devji Patel, Kirodi Lal Meena, Ajmer MP Bhagirath Choudhary apart from others.
Prime Minister Narendra Modi held a road show stretching to 4.5 kms in Bikaner on Monday in support of BJP candidates. On Tuesday evening, PM Modi is scheduled to hold a road show in Jaipur. BJP in its manifesto has promised to set up a special cell to investigate "anti-Bharat" sleeper cells across the state, investigation into alleged scams under Congress government, promise to transform the state into 350 billion dollar economy, apart from several women-centered schemes like 33% reservation for women in police force, a woman police station in every district, free education for girls, LPG cylinders for Rs 450 and Scooty for meritorious girl Class 12 students to counter Congress' already existing scheme of scooty for meritorious Class 12 girl child.
The flagship scheme under BJP's manifesto is Lado Protsahan Yojana, which guarantees savings bond of Rs 2 lakh for a girl child, a sum of Rs 6000 when she reaches Class 6, Rs 8000 in Class 9, Rs 10,000 in Class 10 and Rs 12,000 in Class 11, Rs 14000 in Class 12, Rs 50,000 in her professional course and Rs 1 lakh when she reaches the age of 21.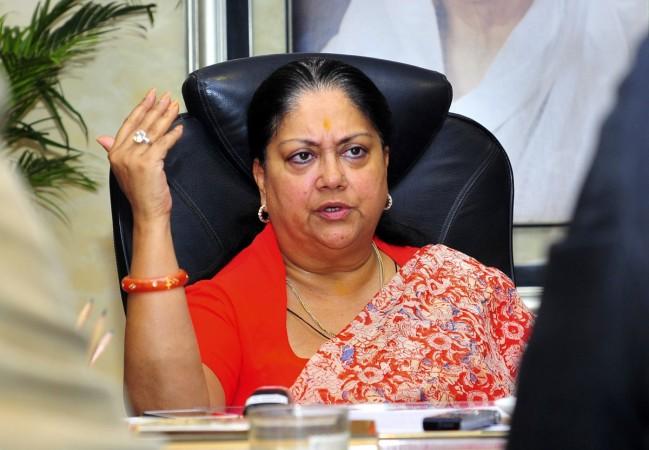 BJP's blue-eyed girl since 2003 Vasundhara Raje, reportedly she has been finding herself in a tricky politics-riddled spot this time. Having represented Jhalrapatan for 20 years, this time she is said to be running a separate campaign, paying heed only to her true loyalists. A fact well-known in the political circles of the state now.This is for the first time Raje has not been projected as the chief ministerial probable of BJP or even as a significant face of the party in the state.
Distanced significantly by BJP, she has held close to 40 rallies in the past two weeks campaigning only for her loyalists. The slightly dimished profile of BJP's mass woman leader and the only woman CM of Rajasthan puts a question mark on whether the party can make it alone in the state. With Congress and BJP'S welfare schemes being almost a rehashed version of each other, does the battle come down to regional strongholds, party politics, and who can sway the voters?
(With inputs from IANS)