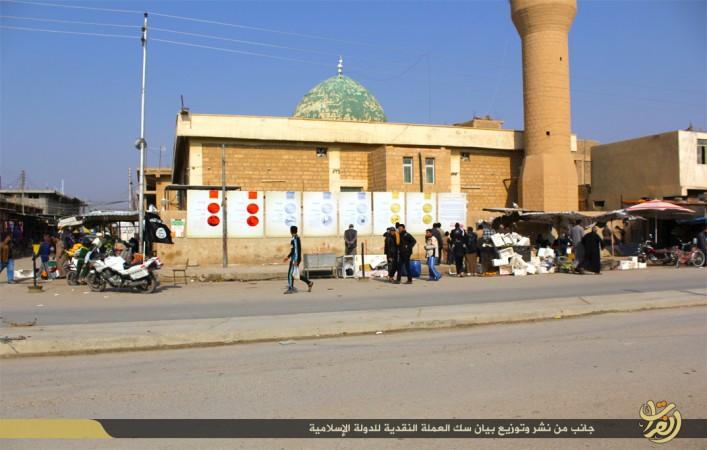 In an official circular of sorts, the Islamic State militants (ISIS) have put up billboards in Syria and Iraq announcing its plan of introducing the new Sharia currency in the form of gold, silver and copper coins.
The ISIS reportedly made the announcement in Wilaayat al-Furat, where huge banners informing the public about the new Sharia currency have been erected next to mosques.
The town of Wilaayat al-Furat is made up of villages that formerly used to be part of Iraq and Syria. But after the ISIS established its Islamic State, these areas were given a different name. Wilaayat al-Furat comprises of villages from Albu Kamal (formerly part of Syria) and Al-Qa'im (former Iraqi province).
A photo report released by the group over popular social media websites showed banners near a mosque explaining in detail the nessacity of the new Islamic currency in gold, silver and copper.
ISIS wants to release a total of seven gold-backed currecy units: 1 and 5 gold dinar; 1, 5, and 10 silver dirham and copper 10 and 20 fills.
The reports of ISIS releasing its gold-backed currency has been doing the rounds since last week, after it was reported by SITE, a private corporation that claims to provide "monitoring services".
However, many are still unsure and called the entire ISIS currency news an elaborate hoax. A report claimed that it was in fact FBI that planted the ISIS gold currency story in media.
The photo report out of ISIS-held areas prove that the Sunni militant group is serious about its intentions.
According to the circulars distributed to the citizens in ISIS areas, people will be required to exchange the regular dinars and lira with new ISIS currency.