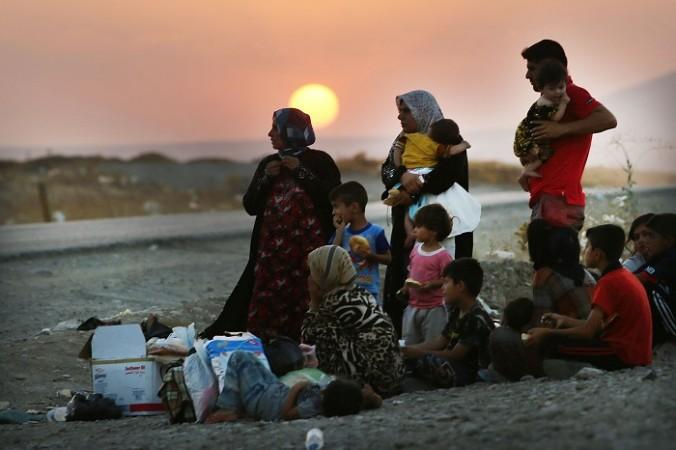 Reports coming in from Sinjar, a small town that was once home to Iraqi minority community, Yazidis, suggest that the Islamic State militants are carrying out a "genocide" in the town.
For the Sunni militants, the Yazidis are a race of "devil worshipers" and killing them would only amount to a "holy act."
The 4,000-year-old religious group has faced persecution for centuries for its unique belief and practices.
Earlier on Sunday, the Islamic State captured the town after driving away the Kurdish forces in the region. Witnesses claim that the militants are executing dozens of Yazidis for refusing to convert to Islam.
The Gulf News report claimed that 67 young men were shot dead by the militants. Besides executing the Yazidis, the Al Qaeda offshoot, is also reportedly taking Yazidi women for "jihad" marriage.
Mohammed al-Khuzai, an official with the Iraqi Red Crescent Society told NYTimes that ISIS took more than 100 Yazidi families to the airport at the nearby town of Tal Afar, where it executed the men.
"ISIS killed all the men," Khuzai said, "and are planning to keep the women for jihad marriage."
Reports have also come in claiming that the Islamic State militants have forcefully taken away a large number of children from the Yazidi town. A resident told McClatchy DC that militants were taking away young children from their families.
Several Sinjar local government and municipal workers also have been executed by the ISIS.
"Last night[Sunday] they arrested and executed four of my cousins because they worked for the municipality, and already they have begun destroying the homes of the people who fled,"a witness, who didn't want to be named, told McClatchy.
The United Nations that called the ISIS takeover of Sinjar as a 'Humanitarian Tragedy' also has raised concern over the fate of civilians, trapped in Jabal Sinjar mountains.
Reports claim that the ISIS militants are starving out the men, women and children stuck in the mountains without food and water.
"The United Nations has grave concerns for the physical safety of these civilians," Nickolay Mladenov, a top UN envoy in Iraq said in a statement, reported France24.
Twitter Reactions
Every death of a Yazidi woman/child on Shingal mountain caused by dehydration/hunger is a tragedy and a shame on humanity. #UniteForSinjar

— Harem Karem (@HaremKarem) August 5, 2014
it is not 1000 years ago !!! this is yesterday in #Yazidi town #Sinjar ppl fleeing from #ISIL toward the mountains pic.twitter.com/iW5BHE7Oec — Ammar karim (@ammar_afp) August 4, 2014
Yazidi Leaders Claim Thousands Killed in ISIS Takeover: Yazidi Leaders Claim Thousands Killed in ISIS Takeover... http://t.co/1OwcDkNTdQ

— NDBnewswire (@ISCOSEU) August 5, 2014
Interesting facts: #ISIS kidnapping Yazidi children, say Sinjar residents; Kurds have made direct request for US help http://t.co/VEZAdQ1e9s — mark seibel (@markseibel) August 5, 2014
#Iraq #Islamic_State +21 Islamic State fighters beheaded a Yazedi in #Sinjar via @_IraqiWitness pic.twitter.com/UlyZsQS2MZ

— Green lemon (@green_lemonnn) August 4, 2014