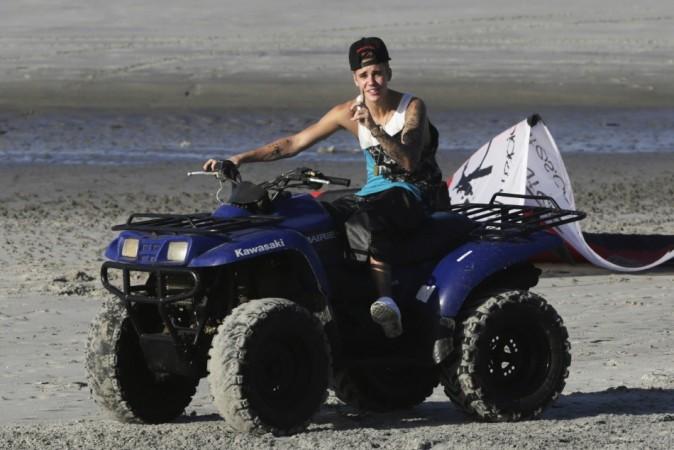 It seems teen sensation Justin Bieber's new girlfriend Chantel Jeffries was interested in making some quick money when the singer was going through a rough patch. She reportedly tried to sell her story to several media houses but stopped after spending the weekend with the "Boyfriend" singer.
The 19-year-old singer was arrested in Miami Beach last week on charges of driving under the influence (DUI), driving with an expired license and resisting arrest without violence, before being bailed out for a bond of $2,500. He was involved in drag racing in a Lamborghini.
Several sources told Page Six that Chantel's representative reached out to TV show producers and media houses, including "GMA," "Today" and "Inside Edition", to spill the beans on her night with Bieber which ended up in his arrest.
"She hired an attorney and was negotiating a deal with the weekly magazines and the big TV shows. She wanted $20,000 plus a guaranteed mention of her modeling career," a source told Page Six. "Chantel was talking to all the networks, but they refused to pay her. Yesterday [Monday] she abruptly pulled out of all the discussions," added another source.
Chantel reportedly decided not to expose her stint with Bieber after spending the weekend with him. Mail Online reported that the duo was spotted having fun on the beach in Panama on Monday.
Bieber packed off for Panama beach with Chantel, after the police caught him for drag racing in Miami. His entourage apparently created a drag strip for Bieber by using their cars to block traffic on Pine Tree Drive at 26th Street, a residential area, at 4:30 a.m, according to Miami Herald.
Miami Beach Police Chief Raymond Martinez told the daily that tests showed "Baby" singer was under the influence and did not have a valid license. Bieber apparently told the police that he had beer, anti-depressants pills and had been smoking marijuana all day.