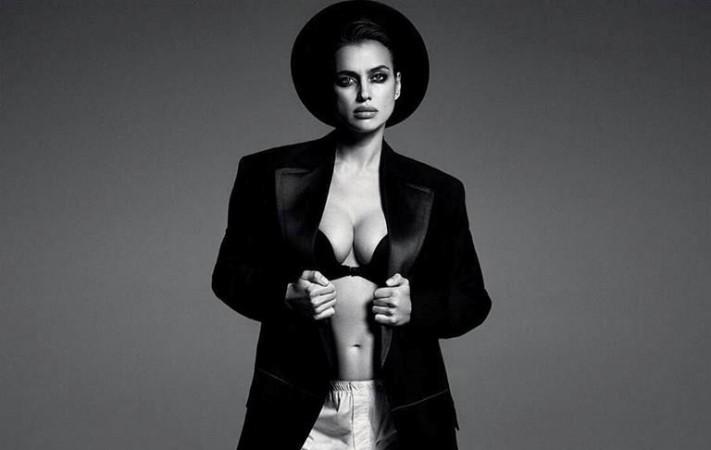 Irina Shayk is back!
Victoria's Secret model Irina Shayk looks super gorgeous in a bikini picture she posted less than a month after giving birth. And, it's breaking the internet.
Also read: Bradley Cooper and Irina Shayk welcome the first born; marriage on the cards for couple?
The Russian beauty is seen lying on a lip-shaped pool float flaunting her taut stomach in the picture she shared on Instagram.
However, some fans were sceptical about the time the picture was clicked as she gave birth to a baby girl just a few weeks ago.
"Pre-sunset #currentsituation," the caption read.
One eagle-eyed fan explained: "this is a current pic of her as she herself wrote under it #currentsituation# now if you enlargen this pic you will see that birth black line from her code down to the vigina."
According to E! News, Irina is being "such a loving and caring mom." An insider told: "She is in bliss. Life is good. She can't keep her eyes off her little girl."
The 31-year-old supermodel and her actor boyfriend Bradley Cooper became parents to a baby girl on March 21. The pair is known for keeping their personal life extremely low profile. However, the PEOPLE magazine unveiled a birth certificate a few days ago which confirmed the couple named their first child Lea De Seine Shayk Cooper.
The model reportedly walked down the ramp of Victoria's Secret annual fashion show last year hiding her baby bump in a tasseled jacket.
"When Irina had her baby she lost most of the unwanted weight right away," the insider informed E! News. "She has great genetics."
Shayk reportedly waited about a week after giving birth to her daughter before hitting the gym. The source said the model has been staying away from fatty foods except for cheat days. "She has done a mix of cardio, weights and eating really clean."
The insider further said, "Bradley is filming [A Star Is Born] now but still is making time for his baby. He is just in love. They are both very protective over their baby and are only letting a few close family and friends to see their baby. Irina's family is in town and is helping with the baby. She has help as well around their home."