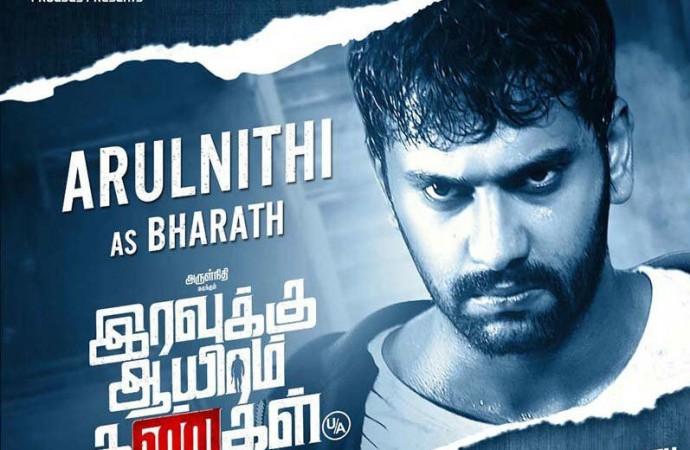 Actor Arulnithi has collaborated with newcomer Mu Maran for the latest Tamil movie, Iravukku Aayiram Kangal, with Mahima Nambiar as the female lead. The cast includes Ajmal, Vidya Pradeep, Suja Varunee, Aadukalam Naren, Achyuth Kumar and Anandraj. Sam CS has composed the music, with cinematography by Aravinnd Singh and San Lokesh in editing.
Iravukku Aayiram Kangal is a crime thriller in which Arulnithi plays the role of a taxi driver, while Mahima Nambiar portrays the character of a nurse. The movie revolves around the incidents that occur in a couple of hours, in one night.
The story is based on real-life incidents and the director has added commercial elements to make it a commercial entertainer.
Buzz
The audio and promos of Iravukku Aayiram Kangal have evoked a lot of curiosity about the film. With the flick clashing with biggies like Vishal's Irumbu Thirai and Keerthy Suresh's multi-starrer Nadigaiyar Thilagam, the movie is expected to be received exceedingly well by the audience.
Will the movie live up to the viewers' expectations and emerge victorious amid competition? Here's what the audience had to say:
Prashanth Rangaswamy: #IravukkuAayiramKangal - A good guide for young film makers about how to make a gripping story with limited budget. @arulnithitamil once again proves that he is good at selecting scripts. Audience are going out happy after watching the movie.
vinodh jayaraman: @arulnithitamil topped his performance as usual. Climax is biggest plus of #IravukkuAayiramKangal #Maran creativity stands in final voice overlap of news reader. A novel resolution is welcome to tamil cinema
ramnath shankar: #IravukkuAayiramKangal : A good suspense thriller with a lot of unexpected turns and twists that makes audience to think a lot ! Good work by the entire team @arulnithitamil , @Mahima_Nambiar looked good too @sujavarunee @SamCSmusic @Vidya_actress @LakshmyRamki
Kaushik LM: #IravukkuAayiramKangal #IAK 2nd half - Focused on the core plot. There are many characters to add to the mystery quotient. The ending is twisted & open to our interpretation. The director plans to make a sequel to take it fwd. Another content-oriented pick by hero @arulnithitamil
#IravukkuAayiramKangal #IAK 1st half - Develops into a murder mystery, with thrills and some romance. #Ajmal in a negative role is the pivot, affecting many characters.. Going ok so far. @SamCSmusic's background score plays a major part.
Sathish Kumar M: #IAK #IravukkuAayiramKangal A Murdery Mystery with lots of actors @arulnithitamil @Mahima_Nambiar @Vidya_actress @sujavarunee #JohnVijay @chayasingh16
Hence, it will be quite difficult to predict the murderer & climax.
@24_PM_ @AxessFilm
#IravukkuAayiramKangal just watched. After D16 Excellent crime thriller @arulnithitamil Sama acting sir good srory selection sir. @Mahima_Nambiar cute performance. @SamCSmusic Wow what a background score powerful. Finally Director is victory
Mahima's Angels: With a racy screenplay and thicker plot with full of twists makes the #IravukkuAayiramKangal to be one of the best engaging thriller in #Kollywood!! Good response from all over... ✌️ @Mahima_Nambiar @arulnithitamil
#IravukkuAayiramKangal #WatchNowInTheaters
George Vijay: #IravukkuAayiramKangal don't miss #Anandraj Annan and the entire casting special mention to him ,don't miss it guys for Twist n turns
@Vidya_actress Anita u surprise villi ..wonderful performance #IravukkuAayiramKangal rocking guys pls don't miss it
@AxessFilm #IravukkuAayiramKangal
Casting semma #ajmal @john Vijay Annan @LakshmyRamki mam #sara Guys don't miss it for Twist n turns till end credits
@SamCSmusic darling u have become thriller specialist and done it again semma BGM #IravukkuAayiramKangal rocking ,end title la ungal song vanthuralam
Review Ram: #IrumbuThirai (Tamil) - Smartly made gripping cyber crime thriller with much needed social awareness. @Psmithran @VishalKOfficial @VffVishal @akarjunofficial @Samanthaprabhu2 @thisisysr @george_dop @AntonyLRuben @UmeshJKumar @dhilipaction @LycaProductions @Krikescc
#IrumbuThirai - Interval - Starts little slowly with few dull moments. Packaging is solid and the content taken is noble, hence connects well. Logically fine & engaging with rightly mixed commercial elements. 'Slick' so far. @VishalKOfficial @Psmithran @Samanthaprabhu2 @VffVishal
Gowtham_talks: #IravukkuAayiramKangal simply brilliant Yeppa ethana twistu
#OnceAgainAGoodoneFrom @arulnithitamil
Only Kollywood: Halfway through #IravukkuAayiramKangal. Many characters are unfolding on screen based on a crime. Replete with twists at regular intervals. Engaging so far! @arulnithitamil @24_PM_ @AxessFilm
Complete Cinemas: #IravukkuAayiramKangal 1st Half : Plenty of Characters & serial of sub-plots converge at one point with unanswered questions. Suspense Extends. @arulnithitamil @AxessFilm