Suspended controversial Indian Police Service (IPS) officer Basant Rath on Friday stoked another controversy after lodging a complaint against senior officers including the Union Home Secretary and Director General of Police for, what he alleged, was "hatching a conspiracy to eliminate him".
Basant Rath shared the complaint on his personal Twitter handle. Rath has lodged a complaint at Police Station Gandhi Nagar of Jammu district of J&K.
Application seeking registration of FIR against Ajay Bhalla IAS (Union Home Secretary, GoI), Dilbag Singh IPS (DGP, J and K) and Raj Kumar Goyal IAS (Addl. C.S., Home Deptt., J and K). pic.twitter.com/X1nBMGBMpb

— ବସନ୍ତ بسنت बसंत (@KangriCarrier) February 2, 2023
"Application/Complaint seeking registration of FIR and initiation of action against the accused namely Ajay Kumar Bhalla, IAS presently posted as Home Secretary, Ministry of Home Affairs, Government of India, New Delhi, Raj Kumar Goyal, IAS presently posted as Financial Commissioner (Additional Chief Secretary), Home Department, Govt. of J&K and Dilbag Singh, IPS son of Sh. Balbir Singh presently posted as Director General of Police, J&K for hatching a criminal conspiracy against the applicant/complainant to eliminate the applicant/complainant and to act in furtherance of such criminal conspiracy by misusing their position and power against the law and to put the life, limb, and liberty of the applicant/complainant in danger as well as for extending threats to the applicant/complainant through goons/henchmen", complaint lodged by Rath reads.
Suspended officer worried about withdrawal of pistol issued to him for self-defence
In his application, the suspended IPS officer Basant Rath mentioned that one 9MM pistol along with one magazine and 35 rounds was issued to him for self-defence.
He, however, alleged that above mentioned officers have entered into a criminal conspiracy to snatch the self-defense weapon from him to expose him to the threat and danger of the inimical elements.
Basant Rath further said that he was telephonically asked to surrender his pistol along with Magazine and rounds without any lawful justification and reason that too in violation of the settled legal position thereby putting his life, limb, and liberty in extreme danger at the hands of the inimical elements, particularly land mafia in Jammu and the terrorists.
Rath mentioned that he has served as SDPO Charar-i-Sharief, Budgam, Additional SP, Baramulla, SP Ramban, SP Poonch, and SSP Jammu and has strictly worked against the terrorists and the land mafia.
Why I decided to quit the IPS and join BJP.

— ବସନ୍ତ بسنت बसंत (@KangriCarrier) January 26, 2023
Rath joining BJP
On January 9, Basant Rath announced joining the ruling BJP to serve the people of Jammu and Kashmir, and Ladakh.
"I'll join BJP before the next Parliamentary elections. I'll stay and work in J and K and Ladakh. No question of going back to Odisha", Basant Rath tweeted from his Twitter.
Rath wrote "If I ever join a political party, it will be BJP. If I ever contest an election, it will be from Kashmir. If I ever join politics, it will be before March 6, 2024.", he had tweeted.
If I ever join a political party, it WILL be BJP.

If I ever contest an election, it WILL be from Kashmir.

If I ever join politics, it WILL be before March 6, 2024.

— ବସନ୍ତ بسنت बसंत (@KangriCarrier) June 25, 2022
Rath offered to resign from the service
Earlier in June 2021, Basant Rath, while announcing his resignation from service, hinted to join politics to contest elections in Kashmir. Basant Rath announced his resignation from service on his Twitter handle. He also posted the resignation letter that he has written to the Chief Secretary of Jammu and Kashmir.
In his letter addressed to J&K Chief Secretary Arun Kumar Mehta and marked to Director General of Police Dilbag Singh and the then Commandant General Home Guard H K Lohia, Rath said "I wish to resign from the Indian Police Service in order to be able to participate in electoral politics. Please consider this letter as my request for resignation/voluntary retirement and process it accordingly".
Suspended in July 2020 for "gross misconduct"
Known for stoking controversies, Basant Rath was suspended by the Ministry of Home Affairs (MHA) in July 2020 after he filed a police complaint against the Director General of Police (DGP) Dilbag Singh.
Rath was placed under suspension with immediate effect for "repeated instances of gross misconduct and misbehaviour".
It was clearly mentioned in his suspension order that during the period that this order shall remain in force, the headquarters of Basant Rath shall be Jammu, Union Territory of Jammu and Kashmir and Basant Rath shall not leave the said headquarters without obtaining permission from DGP, Jammu and Kashmir Police.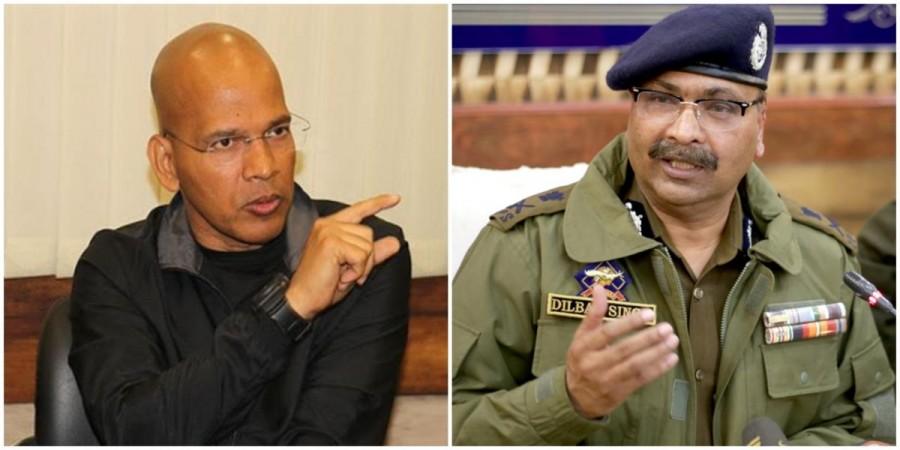 Earlier Rath lodged a complaint against DGP
In June 2020 Basant Rath filed a written complaint against J&K DGP Dilbag Singh at Jammu's Gandhi Nagar Police Station. In his complaint, the 2000 batch IPS officer asked the police to take cognizance of "threats to his life and liberty" which he alleged were given to him by the top cop.
"I am writing to you to take note of my genuine apprehensions about my safety and reputation. I am not asking you to lodge an FIR against the person mentioned above (DGP). I am just asking you to make this letter a part of the daily dairy in your station. In case something bad happens to me, you should know whose number to dial," Basant Rath mentioned in the letter he wrote to the Gandhi Nagar Police Station SHO.