Days after meeting Board of Control for Cricket in India (BCCI) acting president CK Khanna, Mohammed Shami's wife Hasin Jahan urged Delhi Daredevils CEO Hemant Dua on Saturday, March 31, to bar the India pacer from featuring in the 11th season of Indian Premier League (IPL) until their family matters are resolved.
Jahan, who has accused Shami of adultery and domestic violence, did not get the desired response from Indian cricket's apex body as Khanna had said the BCCI won't be drawn into their "personal matter."
The former Kolkata Knight Riders cheerleader had urged the BCCI to "put personal pressure" on Shami in order to help her put an end to the much-publicized martial feud.
However, she was asked to seek the help of her family over the issue by the acting BCCI president, who insisted the apex body was concerned about Shami's performances in the IPL and in the upcoming tour of England.
"I kept my point in front of Hemant sir to not keep Shami in the IPL team until he resolves his family feud," Jahan was quoted as saying by news agency ANI.
Jahan irked by Shami's attitude after BCCI clean-chit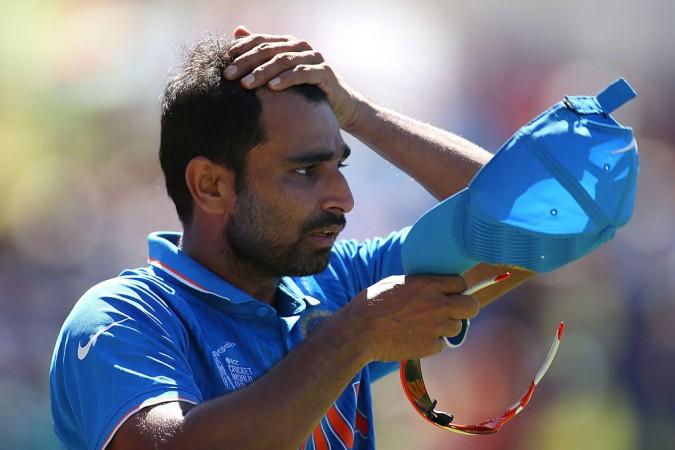 Jahan had earlier alleged Shami was trying to pressure her after getting a clean-chit from the BCCI.
She also urged the apex body of Indian cricket to follow the Bangladesh Cricket Board, pointing out how the latter handled the case of Mohammad Shahid, who was accused of assaulting his pregnant wife in 2017.
Jahan and their daughter recently tried to meet Shami after he suffered a head injury in a road accident March 25 during his trip from Dehradun to New Delhi.
However, the former model claimed her husband did not want to meet her and that he had threatened her by saying he would meet her in court.
Notably, Shami's international and IPL future was thrown into doubt after the BCCI withheld his annual retainership contract following initial allegations from Jahan last month.
The Supreme Court-appointed Committee of Administrators (CoA) even ordered a probe into Jahan's allegations of match-fixing against him.
BCCI's Anti-Corruption Unit, however, gave the 27-year-old a clean chit. He was also given the go-ahead to participate in IPL 2018. The Bengal pacer was also handed his annual contract, which will see him earn Rs 3 crore per year.
Nonetheless, Shami has been charged under several non-bailable sections, including rape and attempt to murder, after Jahan filed a police complaint against her husband and four members of his family at Kolkata's Lal Bazar police station last month.