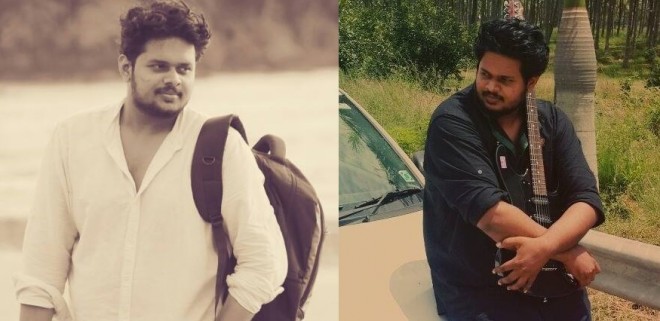 Despite being a Malayalam movie starring newcomers, "Kismath" has been receiving tremendous response from the audience upon its release on July 29. Viewers have especially reacted favourably to its trailer and the songs, and the melody "Kisa Pathiyil" has already become a hit with music-lovers.
The song has been sung by debutant Sachin Balu, who received appreciation from all quarters soon after it was released online. The music album also gained national recognition after it was shared on the Facebook page of the popular online music streaming service, Gaana.com.
Here's is an excerpt of the exclusive conversation that International Business Times India had with Sachin, who is overwhelmed with the listeners' response to the "Kisa Pathiyil" song.
International Business Times: Sachin Balu is totally a stranger to many. So who is Sachin Balu?
Sachin: I am Sachin, aged 24, from Thalassery in Kannur. I was into music from my childhood, as my parents are also musicians. We also have a music institution in Thalassery. I am in the industry for the past four years, during which I composed the background score of some movies. I have also composed the background score of the Marathi film, "Reti." After my schooling, I had to take care of the family as my father expired. My brother, who is working as a music producer in Mumbai, then taught me the basics of sound engineering. I am now heading the music institute and also take keyboard classes for students. I also play the veena.
IBT: Have you sung in any movie before?
Sachin: I had sung for the 2013 movie "Life." But I didn't get any recognition as it was not released on YouTube.
IBT: How did you get the chance to sing "Kisa Pathiyil"?
Sachin: Sushin Shyam, the music director of this song, is my friend, who is also from Thalassery. He had worked as an assistant to Deepak Dev four years ago in Chennai. He usually sends me his works and 'Kisa Pathiyil' is one among them. It was his mother who suggested my name to him and he asked me to send a rough track of the song. The film's director and other crew liked it and asked me to record the song in their studio, but I was too stressed, and couldn't sing well that day. So they used the rough track I had recorded myself at home for the film.
IBT: The song has been getting tremendous response. Did any celebrity personally reach out to you about it?
Sachin: Vineeth Sreenivasan was a student of my father and he called me after the release of the song. He was very emotional and said my voice reminded him of Balan mashu. Also, many celebrities like Shaan Rahman had shared the song on their Facebook page.
IBT: How was the viewers' response in the theatre?
Sachin: The song has already become popular and people had started singing it in the theatre after hearing its music. I felt very happy after hearing people who sat behind me saying that the singer has a good voice. But nobody recognised me at the theatre.
IBT: Have you signed any new projects?
Sachin: Nothing new has come my way yet, I am still waiting. I am doing the background score of a small movie as well.